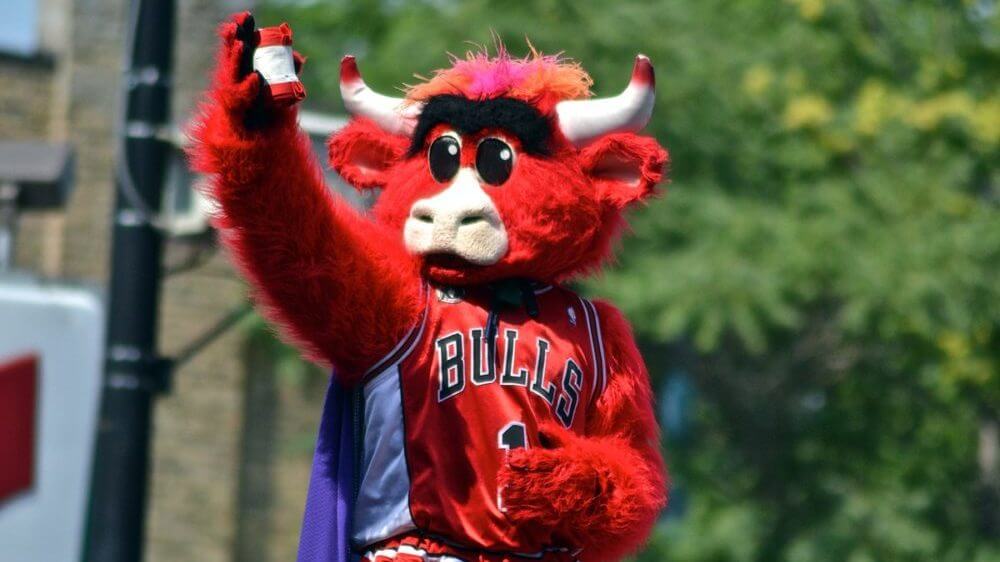 Who doesn't love the Chicago Bulls' mascot Benny the Bull? What with his hysterical antics and genius sense of humor, Benny has been pranking Bulls fans for decades!
Here are six times Benny the Bull SERIOUSLY pranked me by SERIOUSLY fucking up my credit score!
When I Was Watching a Bulls Game
Let's start with an easy one. Back in 2015, I was watching a Chicago Bulls game when, out of nowhere, Benny the Bull pranked the living heck out of me!

It was during the halftime show, and Benny was rocking out to the song "Jump Around" by House of Pain. But then, suddenly, right in the middle of his epic dance routine, Benny pointed one of his furry, crimson-red fingers directly at me. And we made eye contact. Then Benny ran into the stands, pushed my girlfriend out of the way, held me down, and grabbed my wallet from out of my coat pocket. Then (with the entire Bulls audience cheering him on!) Benny purchased $6,000 worth of Chicago Bulls merch on my credit card.

Then he ran away.

Ah, man… now that was one seriously funny prank where Benny the Bull seriously fucked up my credit score.
When I Was at a Bruno Mars Concert
Hoo boy, this one brings me back, folks!

One of the kookiest times that Benny seriously fucked up my credit score wasn't even at a basketball game. It was back in 2013 when Bruno Mars was doing his Moonshine Jungle Tour in downtown Chicago.

I was sitting in the nosebleeds of the concert arena when, all of a sudden, Bruno Mars stopped singing "Locked Out of Heaven" and started pointing wildly at the roof of the arena. Then Benny came down on a wire from the ceiling and fell directly on me. And the audience went nuts! Then, Benny pulled out a series of complicated financial papers from the inside of his mascot suit, and when I looked at them I realized that Benny had intentionally intercepted my past 37 credit card payments, meaning that I now owed over $12,000 in late fees!

Then Bruno Mars invited Benny on the stage and they sang a duet of the song "Grenade" while the audience just kept on laughing.

Wow! Benny sure pranked me good that time!
When I Was Trying to Open Up a Small Business
Man oh man! This was a classic Benny the Bull shenanigan!

I was at the Winside Bank in uptown Chicago, trying to get a loan for an independent froyo shop I'd been trying to open for the past six years, but, just five minutes into my application, the bank's manager alerted me that I already had $19,000 of debt at their specific location. Frowning, I calmly told the man that there must be some mistake, but he just stared at me and held out a photograph from the bank's security camera.

I looked at the photo… and it was Benny (wearing a mask of my face over his own bulky, mascot mask). Apparently, Benny had stolen my identity so that he could get a $19,000 loan for his own independent froyo shop.

Now, at first, I was kind of angry that Benny the Bull had, once again, seriously fucked up my credit score (and my livelihood). But the more I thought about it, the more I realized that this was just another classic gag, performed by the Prankmaster himself.

What an awesome experience!
Sometime During the Year 1997
Okay. Spoiler alert: I don't remember this one happening (because I was only five years old), but sometime during the year 1997, Benny the Bull managed to get his hands on my Social Security Number and open up fifteen high-risk, high-interest credit cards under my name!

Then, Benny used these fifteen different credit cards to buy fifteen different 1997 C5 Corvettes (one for each credit card). Then he watched in silence as my debt accrued exponentially.

Classic! Freaking! Benny!
When I Was at a Different Bruno Mars Concert
Whoever said that "comedy works in threes" hasn't met Benny the Bull, because that funny-as-heck mascot only needed two Bruno Mars concerts to seriously tank my credit score!

It was back in 2017, during Bruno Mars's iconic 24K Magic World Tour in Pittsburgh, Pennsylvania. Bruno had just finished singing an acoustic version of "Just The Way You Are" when he shushed the audience and announced that it was time to introduce "a very special guest."

And I smiled, because I already knew what was going to happen.

Then, Benny came out from behind the curtains and hugged his best friend Bruno Mars. Then everyone in the audience started chanting, "Fuck up his credit score! Fuck up his credit score! Fuck up his credit score!" And Benny revealed to the audience that he had intentionally bankrupted his froyo shop just to sabotage my credit score (because he had used my credit to open up the store in the first place).

Oh man… was that the funniest time that Benny ever fucked up my credit score? Of course! But was it the last time that he fucked up my credit score? Hell no!
During My Dreams
All hail to the Prank King, ladies and gentlemen, because I don't even know how Benny pulled this one off.

Last night when I was asleep, I had this really, really weird dream where I was lying on the outskirts of a desolate, war-torn battlefield. And as I gazed out at the gore-stained grass around me, I saw him. There, standing in the very center of the carnage and devastation was the Prank Maestro himself, Benny the freaking Bull!

And I screamed, "Damn you, bull! What have I done to earn your displeasure? Haven't I suffered enough? Why are you doing this to me?"

Benny stared at me with his hollow, hollow eyes and whispered: "Because I can."

Then I woke up, and my credit score was exactly zero points. And I knew that Benny had just infiltrated my dreams to pull off the greatest prank of the century.

I can't wait to see how he tops this one!