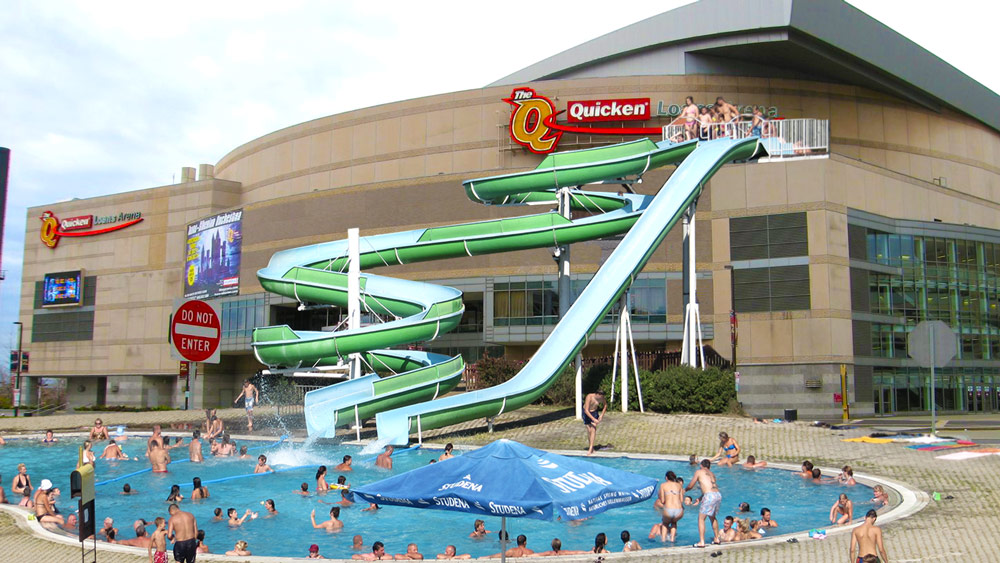 Summertime is upon us and this can only mean one thing: the Republican National Convention is finally here! The scene in Cleveland is heating up for the July 18th kickoff and we want you to know how to keep cool with all of that Republican hot air floating around.
This year's convention brings back the exclusive, much anticipated RNC splash pad. Make sure you get there before Chris Christie does, though (if you don't, you'll want to make sure there is still some water left after his ceremonial cannonball).
The lines can get long at the splash pad, and we want you to get the most out of your convention experience, so here is our list of the five waterslides you just HAVE to ride during this year's Republican National Convention.
The Religious Liberty Slide
This is a new slide this year! It wasn't actually needed, as there are already plenty of slides that serve the same purpose, but some felt they should build it anyway, just in case the other slides didn't work. These slides will also help protect you against other slides that you think are a threat to you, but don't pose any real harm. Even if it's your job to work with the other slides, you no longer have to. As long as you ride the Religious Liberty Slide, you will be protected from any slide you don't agree with.
The Roe v. Waves
Once you get in this line there is no getting out of it. Even if somebody just put you in the line, you must see it through to the full term of the line and ride. Sure, you didn't ask for it, and the slide is kind of a bumpy ride that will leave your body a little maimed, but once you come shooting out of the slide, you will know it was worth it. If you didn't want to go down this waterslide, you shouldn't have worn that bikini to the pool today. You were just asking for it.
The Sarah Palin
This slide was made in honor of the former Alaska half-governor. Much like the way the soon-to-be-reality-show-judge speaks, once this slide starts, you never know when it's going to stop. Just when you think you're going to get a chance to breathe, the slide just keeps going, and going, and going. Many have left the slide feeling confused and slightly disoriented, but that's just the Palin effect. You also won't want to miss the overlook part of the slide where you can see Russia from the porthole!
The George Washington Bridge Slide
This slide has been one of the most popular slides over the years, as it features five massive slides! However, due to a recent dispute with one of the slide managers, The George Washington Bridge Slide has been shut down to just one slide. We apologize for the long wait, but you know it will be worth it!
The Make Water Parks Great Again Slide
When we first heard of this slide, we were sure it was a joke, but now it's here and bigger than ever. It's fantastic! At first we thought that Mexico was going to pay for the slide, but as it turns out, we got stuck with the bill. Construction on the slide was loud and boisterous, but no matter the obscene noise it made, it just rose faster and faster. You can't miss the Make Water Parks Great Again Slide at the splash pad, as it stands out with its blazing orange color. We thought this waterslide had the right idea behind it, but it actually cost the splash pad a lot more than anticipated. If you don't ride it, we may have to declare bankruptcy! So show America and water parks alike just how much you love them by riding this majestic slide. Together, we will Make Water Parks Great Again!
We really can't wait to have you join us at this year's Republican National Convention. Many are concerned about the state of our party, but nothing brings people together like spending time at the splash pad! If Jeb Bush shows up, maybe he will even bring his delicious guacamole. Splash pads and guacamole – what more could you ask for?
While you're enjoying your time at the convention and splash pad, make sure you also check out ISIS laser tag. This is the best laser tag I've ever played. In this game, we're all team RED, WHITE and BLUE! It's the greatest!
July 18th can't get here soon enough. See you at the RNC splash pad!