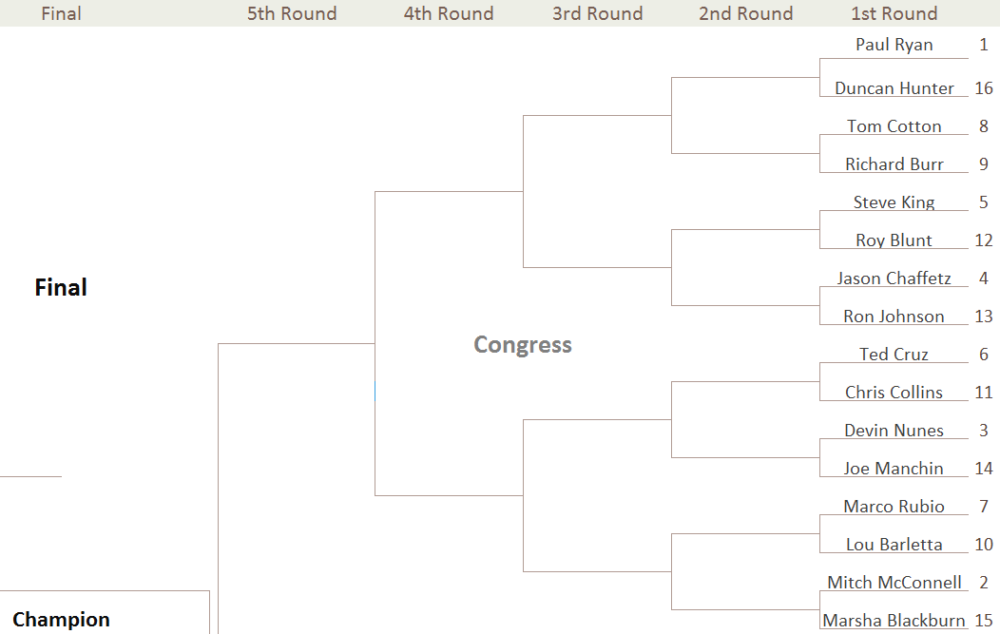 In the Congress region of the Most Soulless Person to Associate With Donald Trump tournament, we've got one of the biggest title contenders in entire field: House Speaker Paul Ryan. As he continues to debase himself on a daily basis and make it clear that he truly has no soul with which to stop any of this madness, he only gets stronger for the rest of the tournament. But hey, maybe Mitch McConnell or even dark horse Ted Cruz will have something to say about it.
Make sure to follow along here and on our Twitter to see who emerges victorious from the region!
Update: Second Round Voting
Voting for the second round of the Congress region is underway and based on the early results, I only have one question: Is anyone in this tournament going to be able to stop Paul Ryan?
First Round Results
The first round went about as expected, except for Senator Joe Manchin pulling off the HUGE upset against Rep. Devin Nunes. Though Nunes is a very willing congressional lackey for Trump, he just couldn't compete against Manchin, a Trump-supporting Democrat.