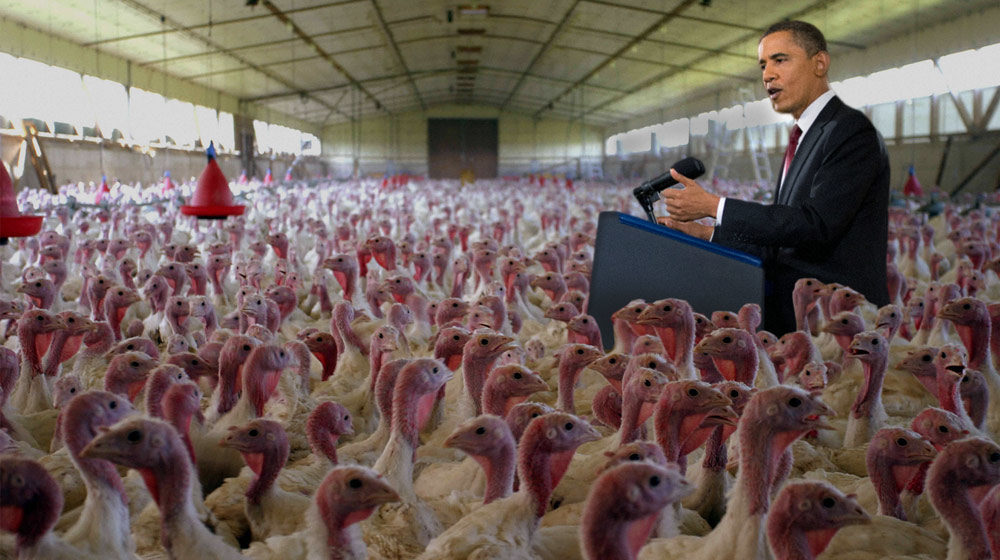 WASHINGTON – During what was to be his eighth and final turkey pardoning ceremony, President Obama bucked tradition Wednesday by going beyond the standard two-turkey reprieve and issuing pardons for all turkeys within the nation.
"Thanksgiving is a time of togetherness and peace," the president said. "After a year filled with senseless shootings and racially-motivated violence, do we really want to continue the bloodshed? Hasn't there been enough?"
A weary Obama added, "I don't know. I just can't do it to these little guys."
Based on the language of the president's decree, "all past, present and future turkeys" are now considered a protected species. Effective immediately, anyone found in possession of any form of turkey meat is subject to a Class 1 felony and up to six years in federal prison.
"Look, we're all just going to have to learn to like ham," Obama said in his closing remarks.
While PETA and other animal rights groups applauded the president's decision, turkey farmers, restaurant owners, and lovers of sweet, succulent poultry reacted with shock and dismay.
"Fuckin' Obama," said one grocer, one elderly grandmother, one sitting congressman, and nearly 300 million others. Incoming President-elect Donald Trump responded to the news by tweeting, "No amnesty for turkeys! Bad move. Weak. Not what a real leader does!"
Though President Obama's announcement is without precedent, the turkey pardoning ceremony itself has seen its fair share of unusual episodes in the past.
In 2000, exiting President Bill Clinton came under fire for pardoning 140 turkeys, several of whom had Weather Underground connections. Likewise, in 1980, President Jimmy Carter, distraught from losing his reelection bid, personally slaughtered 68 turkeys on the White House lawn before the eyes of stunned reporters, quietly saying "no more pardons" prior to each kill.