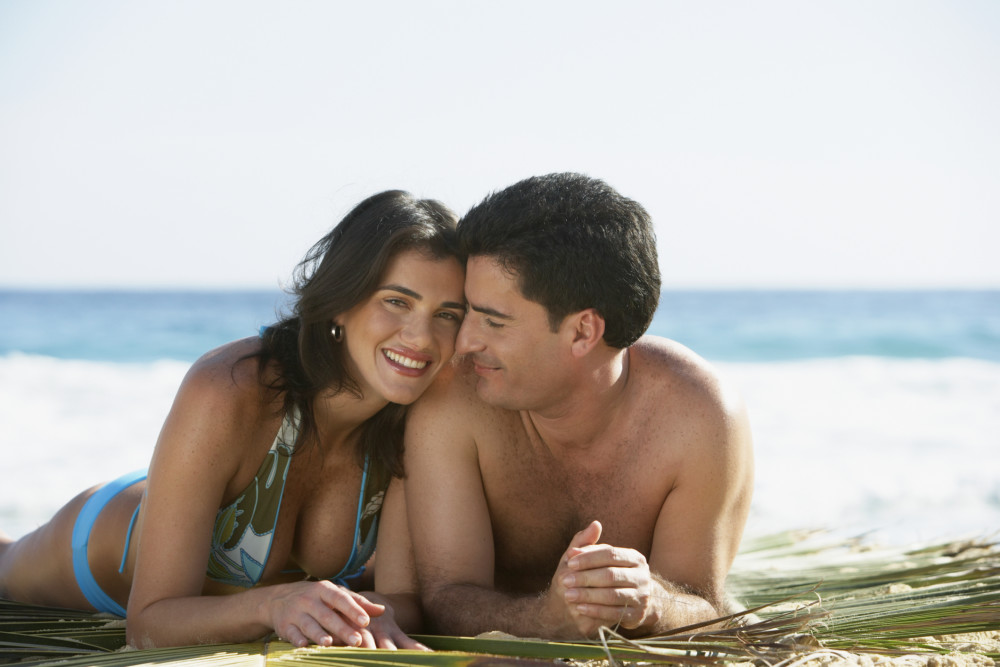 Summer always goes by way too fast. Before you know it, you've only participated in three to four beach orgies and the days are getting shorter. Soon enough, skin won't be in, and there will be at least one extra layer to peel off of your partner.
Don't worry, though, because ol' Grifter here has a sex tip for every remaining day of summer! Try these sex acts out, and remember: hydration is key.
8/21: Humans with penises: Put your donger in a garbage disposal but don't turn it on. Feel the fear course through you. Better than sex? You decide.
Humans with vaginas: Ice dildo.
8/22: Summer is hot, but make it even HOTTER by getting completely naked with your partner and banging on black asphalt when it hits 100 degrees!
8/23: Use a garden gnome as a buttplug.
8/24: Eat a bunch of watermelon seeds and have sex like it is your last day on Earth because of the impending plant growing in your stomach.
8/25: Mash up those ripening hothouse tomatoes and use the liquid for lube.
8/26: See a blockbuster in theatres. Later that evening have your significant other roleplay as the oldest person in the movie.
8/27: Use a volleyball net for autoerotic asphyxiation.
8/28: Doms: Use that volleyball net on your partner.
Subs: Just be submissive in whatever way your partner prefers.
8/29: Tantric sex all damn day.
8/30: Under 45: Have sex while on MDMA at a festival.
Over 45: Look up what it is like to have sex while on MDMA.
8/31: Masturbate using only an LL Bean Catalog and the imaginatorium known as your mind.
9/1: Use a body part of your partner's that you normally wouldn't use to pleasure yourself.
9/2: Blood orgy.
9/3: Have sex while you and your partner are wearing nothing but flip-flops.
9/4: Spend the day registering only the sexiest domain names through GoDaddy. Might end up giving you some ideas!
9/5: Buy some sexy wool underwear to get ready for the oncoming brutality that is fall/winter.
9/6: Get off on how time flies when you're having fun.
9/7: Play Bugs in the Night! Run around the woods, naked, making various noises until you're too tired to do anything other than fall asleep. Then everyone has sex in the morning.
9/8: Fill up your entire swimming pool with lube and go for an erotic dip!
9/9: Navigate your partner's body using only a headlamp.
9/10: Turn off the A/C in your home and sweat it out together. The delirium from heat exhaustion can act as a natural aphrodisiac.
9/11: Rest, unless buildings are too phallic for you to handle; if so, go to town.
9/12: Have sex on a tree lawn.
9/13: Stick your penis in ice cream.
9/14: Eat out a lightning bug and get some glowy stuff on your teeth!
9/15: Spend the entire night outside in the woods and then count the number of mosquito bites you have the next day. Masturbate that many times in a 24-hour span. This one requires a little planning ahead!
9/16: Meat eaters: Massage your partner with brats cooked on the grill.
Non-meat eaters: Use eggplant.
9/17: Post-coitus, when your partner falls asleep, sneak out into the night air and feel just how rock solid your nipples will get.
9/18: Have sex on a piping hot charcoal grill while it cooks a variety of meats. The burning sensation heightens your senses, and your sex juices will enhance the flavor of your dinner.
9/19: If you need to, rest again. This is almost the end, and unless you're the Grifter, you are probably feeling a little worn down.
9/20: Bike seat butt plug.
9/21: Commit to a 24-hour sex marathon to usher in the new month. If you can't last the whole 24 hours, just go until you run out of lube.
9/22: Get some new ideas for the bedroom by reading my guide to autumn sex and preparing for the second installment.