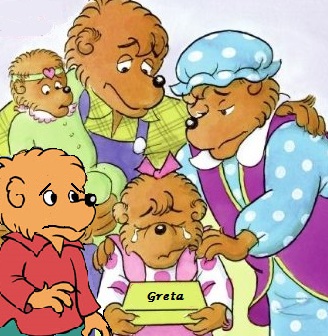 WASHINGTON – Saying it was "long overdue," the Berenstain Bears visited the United States Holocaust Memorial Museum this week.
"My grandfather died in Auschwitz," Papa Bear said. "And my grandmother and mother barely got out of Poland alive. I…I really should have come here a long time ago."
Walking past thousands of pictures of victims and peering inside replicas of holding cells and boxcars, tears flowed freely for the family. Twenty-two of their relatives died during the European tragedy, including Papa Bear's grandfather, Abraham Berenstain, and Mama Bear's grandmother and uncle, Greta and Hiram Bearenski.
"This is something we all needed to see," Mama Bear said.
The family plans to donate artifacts belonging to Greta Bearenski to museum officials, including letters, eyeglasses and her Jewish badge, torn free during capture. These donations aren't just intended to commemorate her life, Papa Bear said, but to keep the memory of the Holocaust alive.
"The world needs to remember," Papa Bear said. "Dear God, don't let them forget this."
At press time, Brother Bear was complaining of a toothache and the family was headed to the dentist.