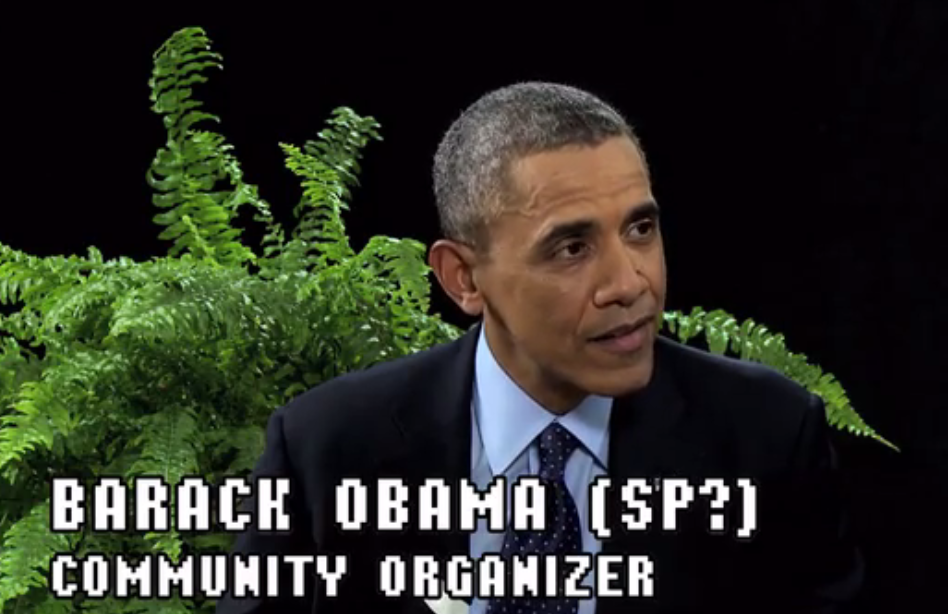 Sure, to some, there is just nothing President Barack Obama can do right, or not without some sort of sinister ulterior motive. Of course, it's just fine to oppose his policies, but credit has to be given where it's due, and his appearance on Between Two Ferns deserves praise (though not necessarily for its intended point).
A president deals in very harsh realities. As the situation in Ukraine continues to deteriorate and a variety of domestic issues rile up a strong percentage of the public, Obama's appearance on a tremendously weird web series might seem like especially bad timing. But the administration is going hard after young people in the quest to fulfill its healthcare projections and that's going to be at the expense at just about everything else. Is that the best strategy politically? Of course not, but it does mean we get things like this Between Two Ferns episode.
The thing is, Obama's appearance on the Zach Galifianakis-helmed series is actually funny. It ranks with some of the series' best entries, which, naturally, include the ones with Bradley Cooper (or, "Brad Lee Cooper"). It's obvious that Obama has some great comedic timing, and both he and Galifianakis have a fluid, natural back-and-forth that certainly doesn't make it seem like the President of the United States (let that sink in – the PRESIDENT OF THE UNITED STATES) is on this show.
Does it matter that the president is funny, though, especially during a time of considerable worldwide turmoil? To be fair, there is always turmoil throughout the world, and a president is like any other human being who needs even a few hours to let loose. He and the rest of the administration will want you to believe it matters, but it might not beyond some newfound respect in some circles and plenty of firepower against him in others.
Ignoring the plug for Healthcare.gov that had to happen, Galifianakis kept the sketch from turning into too much of a soapbox. The president has always had Hollywood in his back pocket, but this time, it was put to good use. It's doubtful this sketch will help much in the pursuit for more young Obamacare adopters (though traffic on the site jumped 40 percent the day the video was released), but hey, we all just got to see a sitting president be legitimately funny, and the rarity of that is worth noting.
It's humanizing and possibly endearing, but Obama doesn't get another election. He's just pulling out all the stops to prevent his signature law from turning into a total disaster. Is it pretty desperate? Sure, but good comedy is good comedy.