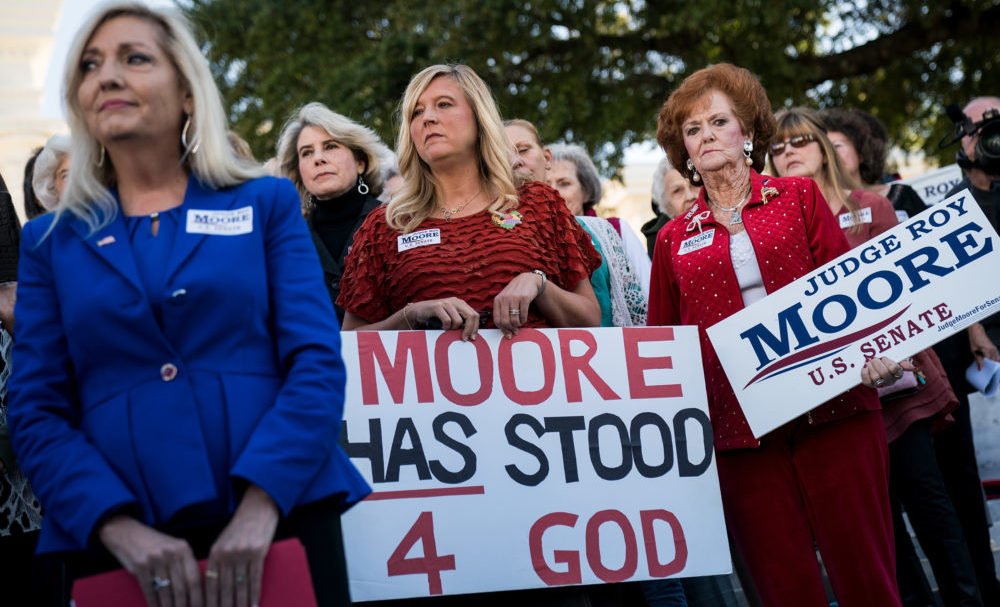 Matthew 19:14: "Jesus said, 'Let the little children come to me, and do not hinder them…'"
Roy Moore enters the Senate race. "My position has always been God first, family, then country," he says. "I share the vision of President Donald Trump to make America great again."
April 26:  "'Teacher, I will follow you wherever you go."' – Matthew 8:19
April 27:  "But our citizenship is in heaven. And we eagerly await a Savior from there…" – Philippians 3:20
* * *
Moore beats former Attorney General Luther Strange in the runoff to win the GOP nomination.
Sept. 26:  "For whatever is born of God overcomes the world; and this is the victory that has overcome the world – our faith." – John 5:4-5
* * *
The Washington Post publishes accusations by four women who claim that Moore pursued them when they were teenagers and he was in his 30s. One woman, Leigh Corfman, says Moore touched her sexually when she was 14. Moore calls the allegations "fake news" in a Breitbart article posted minutes before the publication of The Post story.
Nov. 9:  "'Put on the whole armor of God, that you may be able to stand against the schemes of the devil.'" – Ephesians 6:11
Moore appears to contradict himself in an interview on Sean Hannity's radio show. At one point, he says the women's accusations are "completely false." Moore then said: "I don't remember ever dating any girl without the permission of her mother."
Nov. 10:  "Honor your father and your mother, so that you may live long in the land the LORD your God is giving you." – Exodus 20:12
Nov. 11: (Refer back to Nov. 10 quote. Then say ten Hail Marys.)
Nov. 12: "The LORD will go forth like a warrior, He will arouse His zeal like a man of war He will utter a shout, yes, He will raise a war cry He will prevail against His enemies." – Isaiah 42:13
A fifth woman, Beverly Young Nelson, holds a news conference and says she was 16 when Moore locked her in his car, tried to pull her shirt off and pushed her head toward his lap. 
Nov. 13: "The controversies that he has stood for, like not removing the Ten Commandments, that's a big part of something that I support. Just the way he carries himself as a man of God. Someone my age in the South, I just look to someone like that, someone who's willing to take that to D.C. and put that in place." – (a member of our very own group) Kierstyn Steed, 19, Grove Hill, college freshman as told to The Washington Post.
Nov. 14: "Now we have blacks and whites fighting, reds and yellows fighting, Democrats and Republicans fighting, men and women fighting. What's going to unite us? What's going to bring us back together? A president? A Congress? No. It's going to be God." – Former Chief Justice Roy Moore
The Post publishes the accounts of two more women who say Moore pursued them when they were teenagers. The Alabama Media Group publishes a similar claim by another woman, bringing to eight the total number of women who say they were teens when Moore made overtures or touched them inappropriately. The Alabama Media Group also publishes the account of a ninth woman who says she was 28 when Moore groped her.
Nov. 15 (part 1/2): "If I didn't vote for him and they were all completely untrue, then that's ruining his life." – (another member of our very own group) Sarah Wade, 27, Killen, customer service representative and Roy Moore supporter
Ivanka Trump tells the Associated Press that "there's a special place in hell for people who prey on children. I've yet to see a valid explanation, and I have no reason to doubt the victims' accounts." 
Nov. 15 (part 2/2): "Passion is what makes us feel most alive." – Ivanka Trump
* * *
Trump endorses Moore. The Republican National Committee follows his lead and resumes funding Moore's campaign.
Dec. 4:  "I like very strong guys. Successful guys. Not necessarily financially." – Ivanka Trump
Trump explains his decision to back Moore. 
Dec. 5: "We don't want to have a liberal Democrat in Alabama, believe me." – President Donald J. Trump
Dec. 6: "One thing my father always taught me is the one thing they can't take from you is what you know… Guns, guns, guns. I've got lots of guns…" – Former Chief Justice Roy Moore
Dec. 7: "You wonder why we're having shootings, and killings here in 2017? Because we've asked for it. We've taken God out of everything. We've taken prayer out of school, we've taken prayer out of council meetings." – Former Chief Justice Roy Moore
Trump holds a rally in Pensacola, Fla., and urges Alabama voters to support Moore, saying: "We want conservative judges, like Judge Gorsuch on the Supreme Court. Doing a great job, too. We want people that are going to protect your gun rights, great trade deals instead of the horrible deals. And we want jobs, jobs, jobs. So get out and vote for Roy Moore. Do it. Do it. Do it."
Dec. 8:  "The Church's role should be separated from the state's role. That is the definition of separation of church and state. But separation of church and state was never meant to separate God and government." – Former Chief Justice Roy Moore
* * *
Alabama voters head to the polls to vote in the special election for the United States Senate. 
Dec. 12: Why do you pass judgment on your brother? Or you, why do you despise your brother? For we will all stand before the judgment seat of God…" – Romans 14:10
Dec. 13: "The people of Alabama are great, and the Republicans will have another shot at this seat in a very short period of time. It never ends!" – President Donald J. Trump