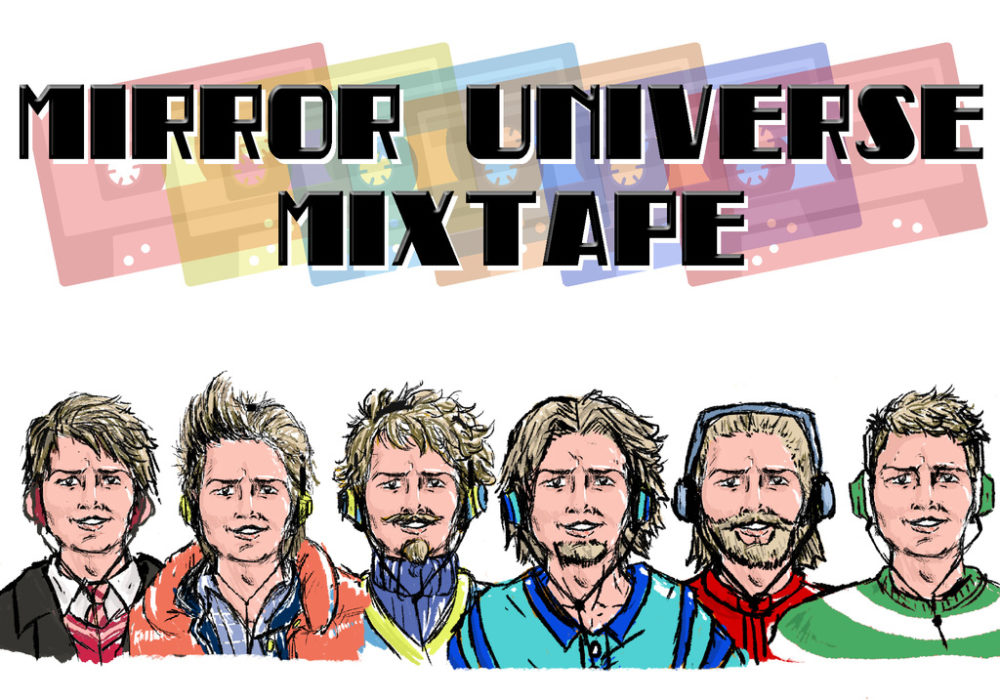 Welcome, Sound Cadets, to the other side of the wormhole. We've globe-trotted the multiverse looking for the finest deep-cut dark matter and big, bangin' B-sides and we're ready to bounce our findings back to SETI and straight into your heart.
Broadcasting live from Earth 841-A, our crack team of enslaved robots has been working tirelessly on Dantooine, Tlön and at the Tannhauser Gate to mine the covers, originals, alternate cuts, and rarities that our rabid fan-base demands.
So strap on your polyphonic helmet, crank up your bionic implants and prepare your nervous system to cross through the sonic portal.
And remember what we always say at Mirror Universe Mixtape: If it's too loud, you're clearly from a species that evolved an inferior auditory threshold.
Side 1: Monsters
Track 1: "Re: Your Brains" – Jonathan Coulton
Few artists are better at taking a quirky premise and running with it than Jonathan Coulton. If you're unfamiliar with him, look up "Pizza Day," "Skullcrusher Mountain," and "Code Monkey." They're all delights. This track finds a zombie narrator attempting to negotiate some braineating with a fellow employee, and he's not unreasonable – eyes are strictly off limits.
The great beat and fun lyrics will make this a welcomed addition to your Halloween playlist, and before you know it you'll be chanting along with the undead whether you've been bitten or not.
Track 2: "The Monster Rap" – Bobby "Boris" Pickett & the Crypt-kickers Five
Everyone knows the classic "Monster Mash," but there are a slew of creature-based tunes from Mr. Pickett, both from his original album and in later singles. Some recommendations: "The Werewolf Watusi," "Blood Bank Blues," and "King Kong (Your Song)." This particular little ditty came about in the '80s when the hip-hops were what all the kids were doing.
Certainly a novelty track in more ways than one – it's quite hokey – but overall I'd say it's a fitting sequel to "Monster Mash." Choice line: (Boris Karloff voice) "He won't stop rapping!"
Track 3: "Mister Bau-Bau (Oogie Boogie's Song)" – The Nightmare Before Christmas Soundtrack
Any lover of Halloween no doubt can't get enough of The Nightmare Before Christmas and the wonderful Danny Elfman music it contains. A few years ago as part of an expanded CD release of the soundtrack, a number of demo tracks and alternate versions of the tunes were made available to the public.
"Mister Bau-Bau" is the Italian version of Oogie's big number, so it contains the same backing track but with Italian lyrics and a new vocalist. The performer knocks it out of the park, really reveling in Oogie's mischief-making. Give it a spin.
Track 4: "Evelyn Evelyn" – Evelyn Evelyn
A side project of Dresden Dolls member and solo artist Amanda Palmer and indie musician Jason Webley, Evelyn Evelyn produced both a concept album and EP that presented the pair as conjoined twins in a carnival atmosphere.
The music and story inserts throughout the album are terrific, though this track stands out, showcasing the intimacy and gulfs between the sisters. Featuring a music box motif that builds to become an orchestral tour de force, supported by beautiful and heartbreaking overlapping vocals, this tune is sure to haunt you for quite a while.
Track 5: "Me and Mr. Wolf" – The Real Tuesday Weld
Created as part of a soundtrack for a novel called The Last Werewolf, this bouncy track is the best song about werewolf-human courtship since "Li'l Red Riding Hood."
The always reliable Real Tuesday Weld really cuts loose on this track, crafting something that sounds equal parts European folk tune, swing number, and house remix.
Track 6: "Ding Dong (The Witch Is Dead)" – Klaus Nomi
Klaus Nomi was a unique and fascinating performer who possessed some serious pipes. One of his more fun offerings was this cover of the famous song from The Wizard of Oz.
Give this track a listen because it's about as far from Kansas as it gets.
Track 7: "The Thing" – Phil Harris
This goofy novelty tune from the '50s presents a story of a man finding a "thing" which goes unnamed throughout, denoted only by a three-beat percussion sound. It's a fun exercise to figure out the worst/most risque thing you can fit in there that matches the lyrics.
"H.I.V." is my personal favorite. It doesn't quite fit in the first verse, but it has a powerful finish. Have at it.
Track 8: "I Put a Spell on You" – Tim Curry
Tim Curry is proof that God loves us and wants us to be happy. The one-time Frank-N-Furter has long been beloved for his performance and singing in The Rocky Horror Picture Show, but unknown to most – including me as of about two days ago – he had something of a musical career in the late '70s and early '80s.
He produced a lot of originals and covers, many of them good, but this sultry cover of the Screamin' Jay Hawkins classic is among the best.
Track 9: "Sally's Song" – Fiona Apple
Fiona's rich, yearning vocals are put to good use once again in this cover of one of the prettier songs from Danny Elfman's body of work, originating in The Nightmare Before Christmas.
Sing it, Sally.
Track 10: "Monster Mash" – Misfits
No Halloween playlist is complete without some version of this song, and Misfits' fast-paced cover is an excellent selection.
Side 2: And Madmen

Track 1: "I'll Never Say Never to Always" – Charles Manson
Before he was brainwashing people and getting swastika facetats, Charles Manson fancied himself a songwriter. He made some demo tapes and even pitched some material to the Beach Boys, but his career never went anywhere.
Most of his work is a mess, but despite his insanity (or perhaps because of it) he did produce a few interesting, off-kilter tracks. This is one of them, and is a tune that would fit right in a horror movie.
Track 2: "The Killing Moon" – Nouvelle Vague
Echo & the Bunnymen's classic song never sounded sweeter, sexier, or more insidious. Nouvelle Vague is known for their distinct and memorable covers, and this one is no exception.
Let this song carry you away. But be forewarned – it might not bring you back.
Track 3: "Where Is My Mind?" – Zombina & the Skeletones
I don't know much about Zombina & the Skeletones, but their name alone gets them brownie points. Luckily, this cover of the immortal Pixies tune stands on its own apart from any playful branding.
With a background vocal that sounds like wind blowing through a cemetery, and an eerie giggling and babbling baby heard at various points, this is one of the oddest, but most effective, covers of a famous song you'll be likely to find.
Track 4: "Cheer Up Charlie" – Primus
We're in the madmen section of our mixtape and they don't get any madder than William Wonka. But Primus comes close.
The band, fronted by the eccentric Les Claypool, released a cover album comprising the entirety of the Willy Wonka and the Chocolate Factory soundtrack, containing offbeat but engaging covers. Many of them are fairly creepy, but this one might be the most haunting, and it even managed to transform the absolute worst song from Willy Wonka into something great.
Track 5: "Shock Treatment" – Shock Treatment Soundtrack
The lesser-known follow-up to The Rocky Horror Picture Show is that way for a reason. Despite some interesting ideas and a very prescient take on reality TV, the movie doesn't hold together the way Rocky does, isn't as fun, and is desperately missing demigod Tim Curry.
Some of the songs, though, are a real treat, especially when you divorce them from the so-so plot. The title track, sung by writer/performer Richard O'Brien as one of the film's mad scientists, is a particular highlight.
Track 6: "The Music of the Night" – Big Daddy
Big Daddy is a fascinating novelty act formed in the '70s which takes popular modern songs and performs them in a throwback style, creating sort of proto-mashups. Any fan of the online sensation Scott Bradlee's Postmodern Jukebox will find a lot to enjoy from this precursor.
In this song, the band plays "The Music of the Night" from Broadway-favorite The Phantom of the Opera in a nearly note-for-note imitation of "Monster Mash." Required listening.
Track 7: "Put the Fucking Lotion in the Basket" – Silence! The Musical Soundtrack
Someone, somewhere, thought it would be a good idea to make a Silence of the Lambs parody musical. And they were right.
Highlight: When "Buffalo" Bill's mooing-like taunts from the film are turned into a brief solo.
Track 8: "Your Long White Fingers" – The Gothic Archies
Anyone who grew up with The Adventures of Pete & Pete will recognize portions of this song, as it, along with other selections from Stephin Merritt's various projects, was featured in the show.
Unsettling, ethereal, and strangely beautiful.
Track 9: "Psycho" – Jack Kittel
An unusual song delivered from the point of view of a deranged murderer, this underground classic was inspired by the infamous spree killing by Charles Whitman and serves as a sort of musical companion piece to Jim Thompson's "The Killer Inside Me."
It's simple, powerful, beautifully performed, and will really sneak up on you.
Track 10: "The Raven" – Christopher Walken
Okay, maybe they do get crazier than Willy Wonka. Here's Christopher Walken reading "The Raven." Enjoy.
Looks like it's almost the witching hour, Sound Cadets. Until next time.