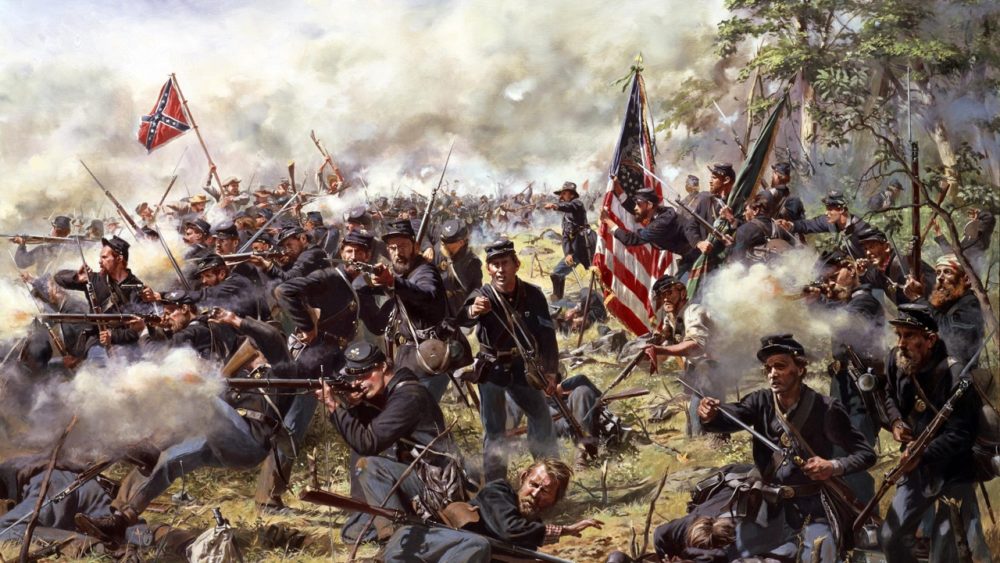 History is not a zero-sum game. Understanding why things happen takes a deep knowledge of context and an appreciation for nuance – which is why it's frustrating that so many people think the only reason we fought the Civil War was to get to General Lee's compound before it was too late, and his genetically enhanced super soldiers hatched from their eggs, forever eroding Man's control over the natural world.
Believe it or not, that was only one of a variety factors that contributed to the deaths of over 600,000 Americans during our country's darkest hour. Let's take a moment and explore the broader contextual elements that pitted brother against brother and almost brought an end to the Great American Experiment.
1. President Lincoln accidentally lost his favorite medallion in Atlanta and asked General Sherman to go find it
Most historians will tell you that some of history's most important events were the result of a series of misunderstandings, and the American Civil War was no different. Normally a calm and collected man, President Abraham Lincoln became very distraught after losing his favorite medallion during a visit to Atlanta. First, his son had died, and now his medallion was gone. The president told General Sherman to turn the entire city inside out if he had to, but neglected to mention he should probably give city officials a heads up first.
2. The first battle of Bull Run was so popular, industry execs demanded a sequel right away
In the summer of 1861, Union and Confederate forces clashed in Manassas, Virginia, marking the bloodiest battle in American history up to that point, and industry executives immediately knew they had a huge hit on their hands; thus, they commissioned a sequel that was released the following summer. While audiences loved it, reviews were initially mixed, with one critic writing: "Bull Run 2 suffers from everything you'd expect a big budget sequel to suffer from. It simply rehashes the original's plot, just with more action and a higher body count."
3. No one wanted Missouri
Much has been made about the Missouri Compromise, the negotiation by Congress to allow Missouri into the Union as a slave state, as long as Maine was admitted as a free state. What isn't widely known is that no one actually wanted Missouri, and when it became a state, it pissed everyone off.
4. War reenactors were growing increasingly uncomfortable with the anachronism of reenacting a war that hadn't happened yet
Thousands of men in costume had a real come-to-Jesus moment and collectively asked: what the hell are we doing here?
5. A state's right to claim trains don't exist
A key component of the Republican Party's 1860 platform was subsidizing the expansion of America's railway system. However, southern Democrats balked at the idea that such a thing as trains even existed. The election of Abraham Lincoln then greatly horrified the South, as they thought the northerners were deluded to think that they could run an entire economy on magical arguments completely divorced from reality.