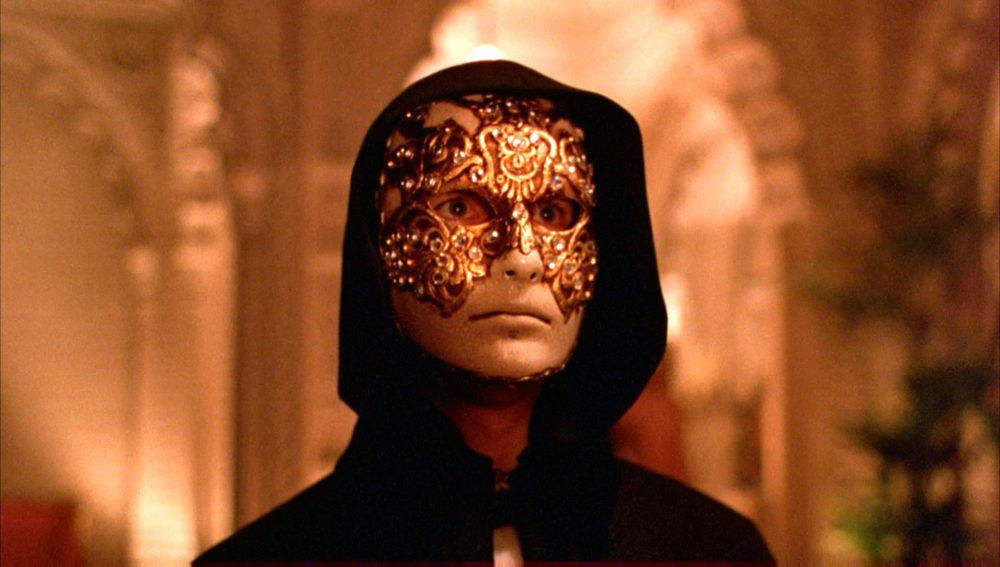 My papa had just returned from the farm when I caught my first glimpse of Eyes Wide Shut. I stood behind his recliner at the tender age of eleven as he clicked on our old tube set. It was the party scene. Red robes, strange gold masks. "Trash," my father said, "exaggerated trash. No place behaves that way," and he changed the channel. But I was transformed. I had peeked through a fleeting window; this was how the world's great men lived.
Imagine my disappointment then, after working my ass off to join the Greenpoint Order of the Moose, to find it just as boring as my father predicted. My induction ceremony consisted of a group of men sitting in a circle of folding chairs with cigars and Coke Zero. Some of the older gentlemen wore suits, but some wore gym shorts. Walter, the reigning president, wore a fleece pullover he bought from a seafood restaurant.
"Walter, what gives?" I asked. "Where are the orgies? The pig's blood? You don't even have balloons in here."
"You watch too many movies," Walter laughed. "This is really just a place to get away from the womenfolk for a while."
Not having any womenfolk, I decided to run for Greenpoint Order of the Moose president.
I won in a landslide, partly by promising to pay for members' alcohol expenses, partly by proposing a steak house policy of letting people just toss their peanut shells on the floor. I draped myself in a fox fur onesie for my inauguration, which confused a few members, but we had plenty of gin.
"Congratulations," Walter said.
"The head blesses your passing of the tuskless crown," I responded.
Redecorating was my first order of business. I brought in gold candelabras, matching chandeliers. I took some of the members game hunting, and while we didn't bag any stags, we shot several rabbits. These are now draped over the entranceway, a cleansing ritual, and I found several plastic deer head centerpieces online for cheap.
Next were the events. No more Wednesday bridge or Friday night BBQ plates. Orgies, I will admit, are surprisingly difficult to organize – scheduling conflicts, unions, etc. – but I did manage to find a birthday clown who can fold balloons into pyramids and three-headed serpents. His name is Ryan, but I made him wear an executioner's mask and introduced him as Phalgonian Dildo. We served punch. The younger members still play soccer one Saturday a month, but I have replaced the ball with a papier-mâché likeness of 15th century Franciscan monk Bernardino of Siena.
"What exactly is the philosophy behind this?" Walter asked.
"It's the philosophy of 'Get Back to Guarding the Goal Hole, Walter!'" I said.
But one event loomed large: Greenpoint Order of the Moose's annual gala. Photos of galas past line the wall of our dining room/sauna, and they all look like dreadful affairs. A banner, a few streamers. Walter grinning like an idiot. This year's would give me the chance to cement my legacy.
I rented a pair of enormous spotlights to let everyone in Greenpoint know something was going down, and three packs of attack dogs to patrol the perimeter should anyone try to find out what. Members were told to park at the fairgrounds roughly one mile away, where I'd littered the grass with the finest name-brand kettle corn. "Put a handful in your pocket," the invitations read. "The rest of the journey will be made by motorized sled dog," at which point each guest would drive a dirt bike back through town to the lodge. Several members complained that crows had already gotten most of the kettle corn, but I had a fresh bowl inside.
I also had ducks. Dozens and dozens of ducks, waddling among the clawfoot tubs filled with pictures of LeVar Burton. A hunter dressed as a dentist sat with a rifle in one corner, ordered to shoot at the largest duck, miss, and scream "Geronimo!" every half hour.
Dinner was catered by the Cheesecake Factory.
I heard no complaints about the post-meal activities. Men danced with their wives and wives danced with the lemon trees. We hooked pumpkins to rusty anchor chains and swung them above our heads as we drank spirits from hollowed out Magic 8-Balls. "The fortune will lie in the pulp, my steeds! God guide the pumpkin pulp!" One man, I will admit, was injured very badly.
Then, across the room, as if from a dream, I saw my papa standing between the smoke-emitting tesseract and the pool noodle sculpture of Captain Beefheart. He glanced at his unfamiliar surroundings. The fake eyebrow made from real eyebrow hairs, the piñata filled with bath salts. He looked me in the eye, gave a knowing nod, and took a seat between an inflatable Venusian and Leroy. I smiled, bowed my head in prayer, and began reciting my Incantations of the Leather-Lined Pyre.