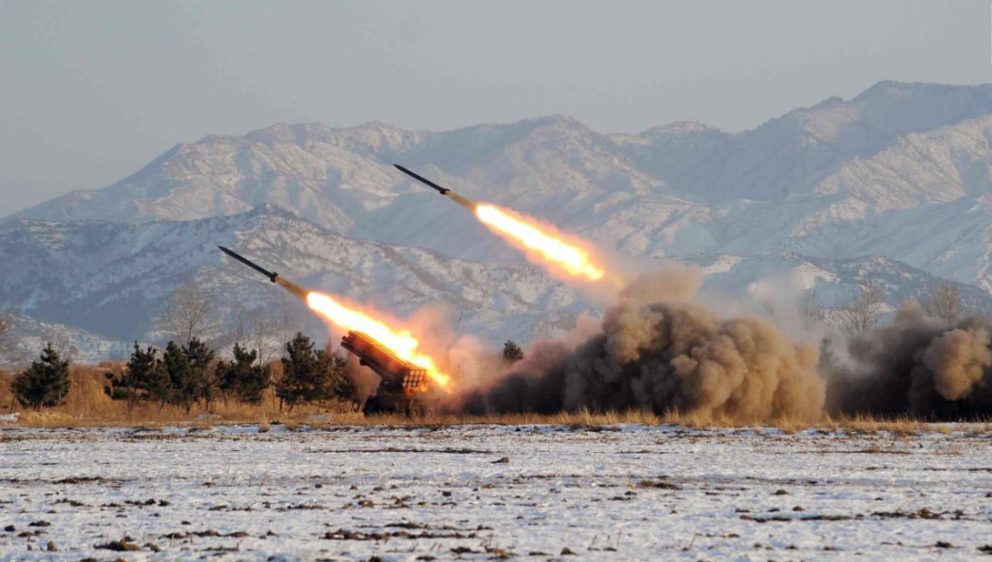 Hey there Snapchat users! It's your Snapchat Team with some fun new additions to the Snapchat you already know and love. I am sure many of you already follow users like People and Cosmo to get the latest celeb scoop, but what about that hard-hitting news that is apparently so important to the world? For instance, how about the rising tension between North Korea and the United States that is taking up so much of the Internet right now?
Well, now you don't have to waste precious snapping minutes reading boring articles that have too many names you can't even pronounce. Instead, we, here at the Snapchat headquarters have found seven North Korean soldiers to add on Snapchat so that you can follow the political and nuclear unrest with ease!
Name: Major General Kim Kyoung-min
Username: Gen_KDawg
Bitmoji: Kyoung-min's bitmoji looks just like him, but is often just blankly staring off into space.
Common Snaps: Kyoung-min hates selfies, but loves to take quick videos of his surroundings to show what he is doing, which has given us plenty of shots of missiles being prepared. Once you have seen the missiles we can't tell you any useful information about them, but that is what Twitter is for, right?
Name: Captain Ka Min-ki
Username: MinkiMouse
Bitmoji: Min-ki's bitmoji looks just like him, except that he has platinum blonde hair. That is the easiest way to try out a new look.
Common Snaps: Filters! Filters for days! It doesn't matter if it is a sun-kissed selfie, or a snap of the ballistic missile that looks a lot like a nuclear warhead, a flower crown completes the snap for Min-ki. Min-ki only tends to use only three or four of our filter options, though – maybe there is less choice in North Korea?
Name: Colonel General Rhee Ki-young
Username: KiGuy!
Bitmoji: Ki-young's bitmoji shows that he is ready to party because although he is in full military dress on top, his bottoms are a fun floral print!
Common Snaps: Mostly selfies. There have been countless accidental background selfies where North Korea's vast nuclear power is clearly visible, as Ki-young focuses his death stare into the camera. I think they call that smiling over there. Although, these selfie mix-ups have become less frequent as Ki-young began to appear with facial bruises. Who knows what that is about?
Name:  Major Li Dae-sung
Username: D_Sung
Bitmoji: Dae-sung's bitmoji is dressed in full military dress, but always has a stunned look on his face. Dae-sung is just goofy like that (or is it a look of being knocked out one too many times?).
Common Snaps: Dae-sung is all about his bros on Snapchat. You can often find snaps of his military buds prepping the missiles for launch while Dae-sung watches on and offers support through his hundreds of photos. You better take screenshots of these, though, because Dae-sung's bro group seems to be decreasing in number with each new Snap.
Name: Major Doh Yoo-jin
Username: TheDohYooBird
Bitmoji: Yoo-jin's bitmoji is a very tasteful cartoon of himself that happens to be sitting on a cannon that is blasting off. We are not sure if it is meant to be erotic or threatening.
Common Snaps: Yoo-jin commonly adds the swipe filters to his images, but instead of putting on the temperature or city, most of his snaps appear to have coordinates, and let me just say, they are a bit too close for comfort. Say…do you think these tests are for real?
Name: Senior Lieutenant Kwak Yong-ki
Username: LoveYouYongTime
Bitmoji: The bitmoji Yong-ki has chosen isn't actually of himself, but it appears to be a picture of his cat licking itself.
Common Snaps: Yong-ki loves to turn his location on with the new map option, and is very easy to find throughout the day, and throughout the world. Recently he hacked into his own Snapchat and put himself in Alaska with a voice bubble saying, "We're coming for you." Wait, we didn't realize they were testing for a practical use…is that true? Are there any apps for the real news? Aren't they a bunch of letters of some sort? Try GQQ, or something like that?
Name: Marshal of the Korean People's Army, Cock Se-bin
Username: SebinMaCock
Bitmoji: I didn't even know this was possible, but somehow Se-bin's bitmoji is completely naked and is flipping the bird on both hands.
Common Snaps: Se-bin is a very aggressive snapper, and always has a ton of snaps on his story. You know the ones, where you are just monotonously tapping the screen to get through the entire thing. This means that there are a lot of boring snaps, like his cat asleep, but you may also see a selfie with Kim Jong-un with the caption, "Missile Test Tomorrow, Losers!"
You know what? Forget the apps – does someone have a newspaper subscription? Is that still a thing? Is there any way to know what the hell is going on over there?