WASHINGTON – White House aides were backed into yet another corner Friday, having to answer for why President Trump was now displaying a massive portrait of The Penguin from the movie Batman Returns.
Aides who agreed to speak on the condition anonymity expressed their concern over the president's growing admiration of one of Batman's more eccentric villains.
"Last week I saw him wandering the White House halls in a stained, gray onesie, gathering umbrellas from all the closets he could find," one aide said. "I don't even want to know why there are buckets of fish sitting all over the Oval Office."
White House representative Kellyanne Conway downplayed the unnamed aides' statements, telling CNN's Jake Tapper, "The portrait in question is a gorgeous depiction of a popular character from one of the first great superhero films delivered by one of our most visionary directors. Mr. Trump is merely a big fan. And might I add that the Penguin received enormous bipartisan support for his mayoral campaign. I think more obstructionist Democrats could look to the Penguin as a patriotic example."
Undeterred by the controversy, the president himself tweeted what may be a vague reference to the painting, saying "My dear penguins, we stand on a great threshold! It's okay to be scared – many of you won't be coming back. #MAGA"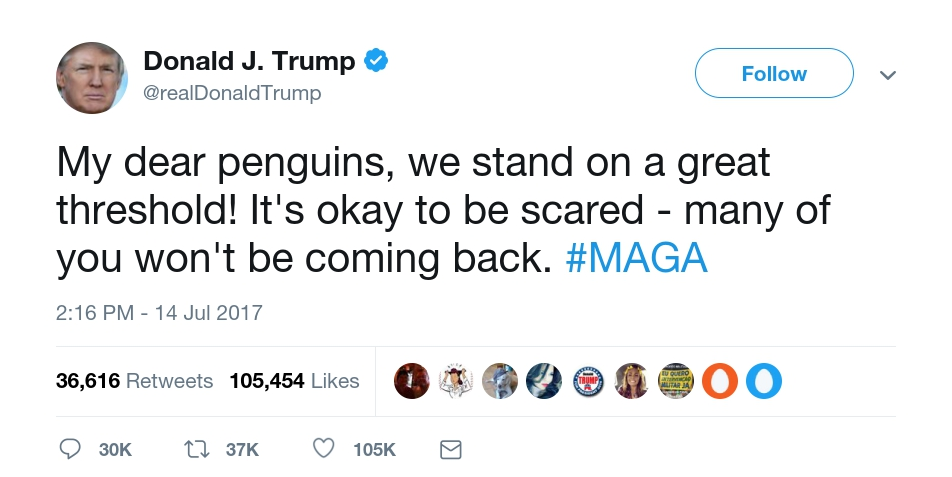 At press time, Vice President Mike Pence was seen opening a package which contained a Riddler costume, then hesitantly trying on the domino mask.