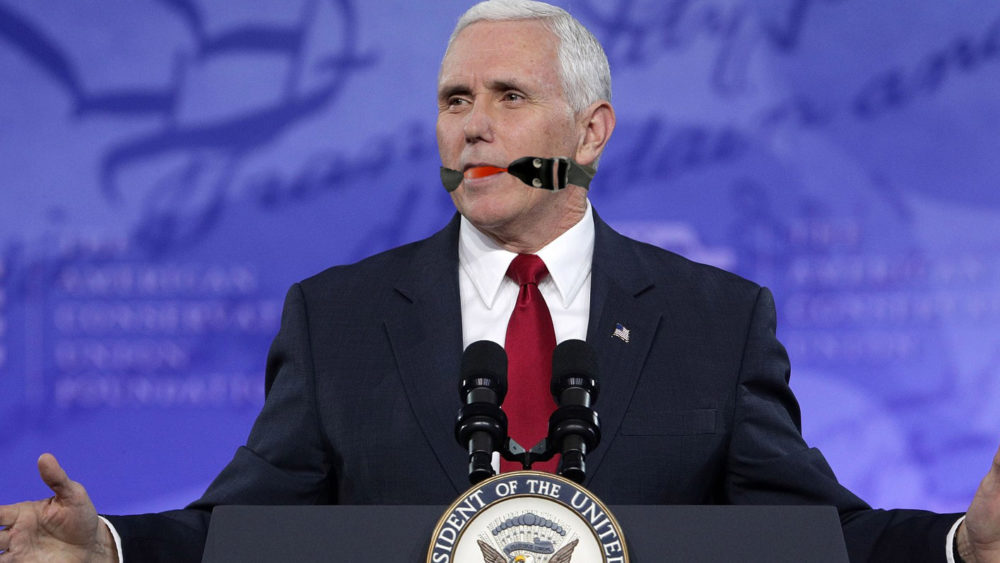 WASHINGTON – In another embarrassing blunder for the Trump administration, Mike Pence attempted to start a press conference Friday without realizing the ball gag from that morning's "Dirty Time" was still in his mouth.
The VP's aides attempted to quickly remove the gag's three protective locks, but the damage had already been done. Photographers snapped photos of both the gag and what appeared to be crude drawings of reproductive organs emerging from the vice president's coat pocket before each could be retrieved.
Washington Democrats were fast to pounce on the gaffe, with House Minority Leader Nancy Pelosi releasing a statement reading in part, "This is just another example of this administration's total lack of competency. Everyone knows when finished with your BDSM toys you thoroughly wash them and place them directly into the locked firebox in your closet labeled 'Important Records.'"
Of course, this isn't the first time Mr. Pence has faced criticism for his carelessness. On Valentine's Day of this year he attended a luncheon while wearing a T-shirt with the words "Ass Boy" printed on it, and in May he accidentally offered Japanese Prime Minister Shinzō Abe cherry-flavored lube in place of ChapStick.
Reached for comment via phone about the misstep, Vice President Pence stated, "Muhhmm Mahpohhogees ooo annneeeuuhnn nn ahhennndannntssss ooodaaayyy."