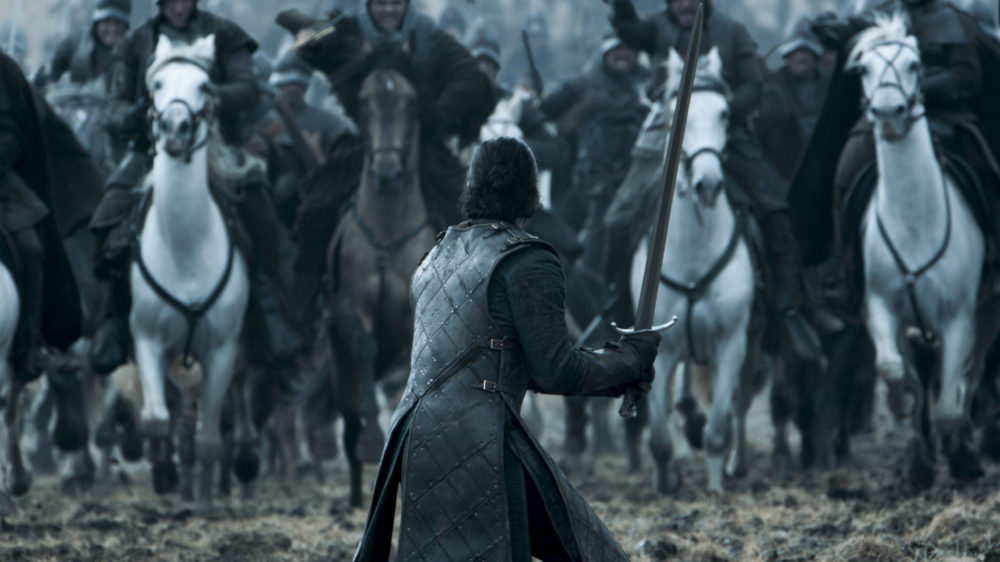 The night is dark and full of terrors, but leading the 5 a.m. Macy's line on Black Friday is a fear unimaginable, with a fate worse than Hodor's. Let's see what each GoT character wants to snag before winter comes.
Cercei Lannister: 50% Off Plywood At Lowe's
Dearest Cersei lost all three children, took down religion, and blew up the center of Westeros. She is going to need all the wood Lowe's has to offer to successfully rebuild her kingdom, wine barrels, and waterboards for the mothers who dare to flaunt their Joffrey-esque sons in the store. #NeverForget
Arya Stark: 20% Off Knife Set at Williams-Sonoma
Arya needs a few knife sets to finish off her Christmas Kill List. Get in her way, and Arya will purchase the half off Ina Garten cookbook so she can make various Hampton-inspired dishes out of your dead body.
Sansa Stark: 40% Off Bed Set at Pottery Barn
It's time for Sansa to Feng Shui her room in Winterfell. Sansa wants Pottery Barn's most popular mahogany bed set with the Winter Forest duvet and sham. To the yoga pant-wearing moms at Battle of the Black Friday who want the same set: never underestimate Lady Stark. She fed her second husband to his own dogs.
Jon Snow: Reiki Cleanse Special
Between Sansa winning Battle of the Bastards and Melisandre resurrecting him from the dead, Jon Snow really knows nothing. The new King of the North is sexually frustrated and needs a serious sacral chakra cleanse. If any White Walker stands in the way of Jon Snow's spiritual reawakening, I'm sure the women in his life will do most of the work yet again.
Brienne of Tarth: 20% Off NARS Makeup at Sephora
Jaime Lannister would fall for Brienne if she would just slab some animal-tested product on her face! All she has to do is exfoliate, conceal, and contour every night and day to win any man's heart! Is she too busy protecting the Starks and out-fighting every man in the Realm? Yes. But no one will take any woman seriously without her completely changing her facial structure!
Peytr Baelish: $100 Off Diamond Heart Necklace (He Went to Jared)
Peytr is just as cryptic in thought as the average man – does he really love Sansa or will he do anything to make his little finger seem bigger than average? Little Finger wants to buy Sansa Jared's custom-made empty heart necklace to show her how much he may or may not love her to fill the void that still remains. Sterling silver, diamonds on its rim. Sansa can't turn that down. It goes too well with her Pottery Barn bed set!
Theon Greyjoy: FREE THERAPY
I don't know if therapists give Black Friday deals, but in Theon's case, they should. In fact, they should just give him a lifetime of free therapy sessions. If no one gives it to him for free, his badass sister will kill said therapist. Or maim them significantly. Her choice.
Tyrion Lannister: $20 Off State-of-the-Art Wine Decanter
Tyrion's role in the current circumstances of the realm consists of drinking wine. He's all about that Cabernet, so the finest wine decanter is perfect for him. As Shakespeare says, "Although [he] be but little, [he] is fierce." And he will kill you on the toilet if you take the last decanter special. No one wants to die on the toilet, just ask Elvis…or Tyrion's father.
Daenerys Targaryen: Buy One, Get One FREE at Petco
Let's be real, Daeny doesn't have time to take care of her three dragons. Luckily, Petco is running the Black Friday deal of a lifetime! Buy one pet grooming and dragon-sitting package and get one FREE. Did I also mention that dragon food is HALF OFF?! She will probably not make a star appearance at Petco, but, mark my words, the Unsullied will be there to get this package (figuratively).
Bran Stark: $5 Off Door Security Bar
To solve the infamous "hold the door" issue once and for all, the best Battle of the Black Friday deal is $5 off a metal door security bar. Just place it strategically on the door and NO ONE shall enter. Retail workers should buy one before Battle of the Black Friday begins so they can "hold the door" for the entire day. That way, Black Friday will not be a thing. Ever. Again.
Note: The door security bar can also be used as a selfie stick.