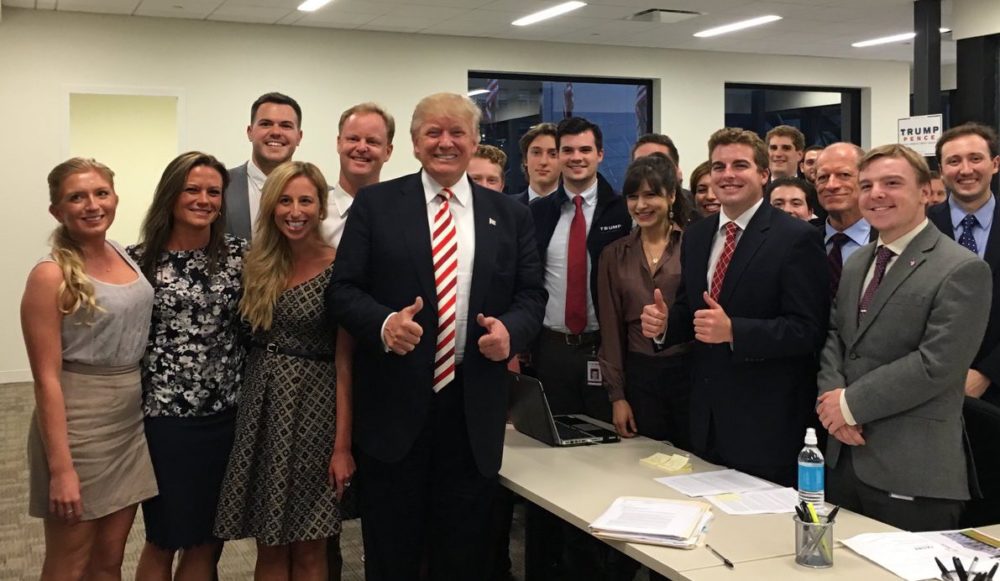 With the Trump campaign bursting at the seams with spite and scandal, I couldn't pass up the opportunity to peek behind the curtain. I spent the day shadowing campaign staffers, doing my best to keep an open mind and document the highlights of my experience.
3:00 AM: My day begins early as I join the staff in brainstorming material for Mr. Trump's predawn Twitter tirade. A little part of me dies as I suggest followers "check out John McCain's sex tape."
6:30 AM: I watch in horrified awe as Trump's hair and makeup crew prepare him for his daily appearances with the speed and surgical precision of an Indy 500 pit crew.
8:45 AM: A team relays speaking points to Kellyanne Conway via earpiece during an early morning television appearance, feeding her little gems such as vaguely suggesting Bill Clinton was responsible for getting Arrested Development canceled.
10:00 AM: Time to book the entertainment for an upcoming fundraiser dinner! I join the staff in making calls as we check the availability of Mandingo fighters across the country.
11:30 AM: An uncomfortable hug between Donald and Ivanka is cut several minutes short as a shrill alarm rattles the walls of Trump Tower. Melania has escaped to the penthouse balcony and is frantically trying to flag down passing aircraft with a hand mirror. She is eventually tempted inside after a few minutes of waving around a new Chanel handbag.
12:15 PM: I take time out of my lunch break to help the maintenance staff place fresh photos of Hillary Clinton in the Trump Tower urinals for what campaign staffers refer to as "debate prep."
1:00 PM: Afternoon strategy meeting. I sneak a glance as The Donald's phone vibrates. A shirtless selfie from Vladimir Putin appears in a text from "Domino's Pizza".
2:15 PM: Mike Pence is discreetly ushered aside by a few senior staffers as I look on unnoticed from a nearby mezzanine. He is shown a live feed of his family, bound but unharmed, in an undisclosed location. Suffice it to say he won't be jumping ship anytime soon.
3:00 PM: A team assembles to compile facts for use in upcoming speeches. Just kidding! We fat-shamed Paul Ryan's niece on Twitter.
3:45 PM: The staffers invite me to join them on an afternoon break. Everyone gets a good laugh making Chris Christie guess which position The Donald's picked for him in his cabinet. Judging by the snickering, my guess is "missionary."
4:30 PM: Staffers perform relatively minor damage control as a video surfaces of Donald struggling to find a synonym for the n-word.
6:00 PM: I rendezvous with staffers at a local Trump rally, assisting a team of wranglers in keeping his sons from lurking in the background during photo ops. I can still feel the creepy blond one watching me with those pale dead eyes.
9:45 PM: The Donald caps off his day with some much-needed stress relief, leading the staff in a solid three seconds of pig noises before Rosie O'Donnell could hang up the phone.
10:00 PM: My day at the circus has come to an end. My speedy departure from Trump's campaign headquarters was as much "throwing in the towel" as it was "waving the white flag." As much as I've tried to keep an open mind, it's easy to see how Trump thinks America needs to be made great again when the "America" he surrounds himself with is the moral equivalent of a dumpster fire.