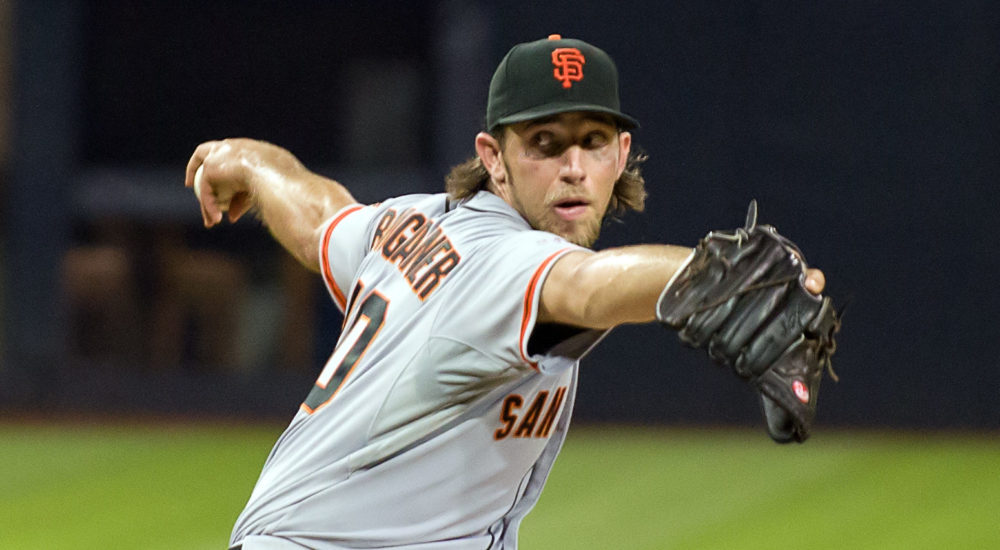 I never seem to consider the San Francisco Giants' existence during the baseball season. Maybe it's because I'm an American League guy in the Midwest, but they just never register on my radar – until the playoffs.
The playoffs are where I'm reminded, in the even years at least, that the Giants are a mythical, magical beast that simply cannot be stopped, no matter any perceived deficiencies. And the head of that beast is pitcher Madison Bumgarner, who has yet to surrender a run in 23 innings of elimination-game pitching. The perfection was on display again last night in the NL wild-card game, as Bumgarner tossed a four-hit shutout against the New York Mets, further solidifying himself as the best postseason pitcher out there and confirming my belief that he sold his soul to the devil.
How else do you explain such unbelievable dominance? And don't get me wrong, I don't mind that he did it. I love it. I love it so much.
Is Bumgarner possibly going to spend eternity in hell, now that his soul is mortgaged to the devil? Yeah, but look at what we got in return. Performances like last night make it worth it for everybody.
Is Bumgarner going to have his flesh torn from his bones and experience unimaginable agony every day until the end of time? No doubt, but think about all of the great baseball he was able to give us.
If this trend continues and the Giants win another even-year World Series championship (following 2010, 2012 and 2014 titles), I'll begin to wonder if Bumgarner didn't also sell the souls of his family members, too. But if it means we'll see another Game 7 masterpiece, who cares if it means they'll be playing checkers with Hitler when it's all said and done?
No one's putting much faith in the Giants this year, which is a grave mistake and means it's even more likely to go their way. So I'm sorry to say Cubs fans, Satan is on the Giants' side this year, and you just can't beat that.