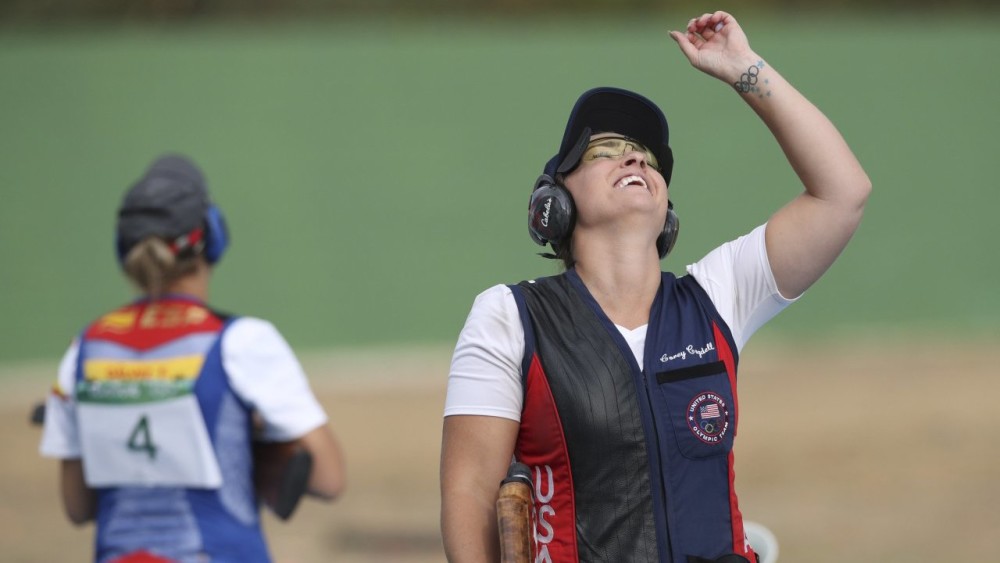 Amidst the malaria, raw sewage, and shade thrown by Christ the Redeemer in Rio, thousands of adults are playing sports. Believe it or not, some of the people playing sports are women, which is, quite frankly, shocking. How can someone who didn't learn how to vote until 1920 (in the United States) become so good at sports? I guess they were so busy tossing the ole pigskin around that they didn't realize how oppressed they were.
It's amazing how far they've come. If they didn't figure out how to vote until a mere ninety-six years ago, how do we explain their athletic success on the world stage? The answer is complex. For some, they have achieved greatness because of their husbands. Without these relationships that really are just a useless piece of paper that help with taxes, these women would simply be badass women winning Olympic medals. How sad is that? Other Olympian women don't have husbands to thank, but we've found ways to distract ourselves from their greatness because someone has to.
Mitch Unrein, Chicago Bears lineman, struck bronze when the woman he's married to won a bronze medal in women's trap shooting. The Chicago Tribune noted Unrein's well-earned success by tweeting "Wife of a Bears' lineman wins a bronze medal today in Rio Olympics." Thank Christ the Redeemer for publications like the Tribune that point out the true heroes we should be celebrating. Corey Cogdell, Unrein's lucky wife, also won a bronze medal for the same event in 2008. She didn't begin dating Unrein until 2010, but we'll just attribute that to a fluke and call it a day. How else could we explain the fact that a highly skilled athlete who spent countless hours training accomplished something?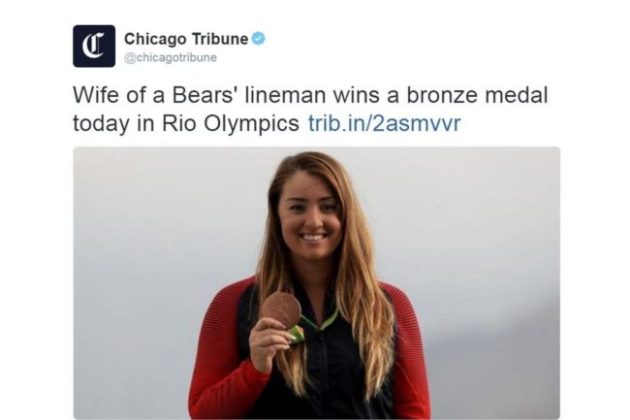 American men aren't the only ones who have given some of their inherent betterness to their wives. That's not even a word, but rules don't apply in Rio. Hungarian athlete Katinka Hosszu slayed that swimming scene and won two gold medals for not drowning better than everyone else. Don't be fooled! She didn't do it alone. As NBC sportscaster Dan Hicks was quick to point out, her husband, Shane Tusup really deserves all of the credit. Hicks appropriately stated, "There's the person responsible" when the camera panned away from the decorated athlete to her husband.
Although most people couldn't see it, Tusup was actually in the water with his wife physically kicking her legs for her. This wasn't breaking the rules, because there are no rules in Rio. Not only is Tusup an amazing athlete, but he's a certifiable genius for thinking outside of the box and getting the gold for his wife. Hopefully the chlorine dripping off her shiny-ass gold medals doesn't seep into the butter she'll have to churn back in their frontier home.
NBC chose not to air the Olympic opening ceremony live because, as NBC's chief marketing officer John Miller said, women are "less interested in the result." He went on to say, "It's sort of like the ultimate reality show." We all know that John is right. Women don't care about the ending, they just care about the middle. The pie filling is better than the crust! That's why Hillary Clinton chose to take a nap instead of accepting her nomination at the Democratic National Convention. Classic Hil! After her nap, she finally got around to watching The Bachelorette, which she did not watch live. You may not agree with Secretary Clinton's policy, but we all agree with her that JoJo should have picked Robby.
Another Olympic spokesman, the equivalent of a Twitter egg, announced on air that the US women's gymnastics team "might as well be standing around the mall." He's right! All of those athletes huddled around to hear the potentially best new of their lives after working their asses off against the world's fiercest competition certainly do look like the popular girls from middle school. In fact, if one wasn't looking closely, one might mistake the Rio arena for a Claire's. Even spookier, one might mistake Simone Biles getting a goddamn gold medal placed around her neck for her getting her cartilage pierced at the previously mentioned Claire's. How do we distinguish between the two?
Olympic gymnast Gabby Douglas won a motherfucking gold medal, but she could have done better. Her performance could have potentially earned a gold medal plus, like in grade school, because that's how the Olympics work. Many Twitter users criticized the way her hair looked. One tweeted, "I'm highly disappointed in Gabby Douglas' hair this year, like all that money she had time to get something done to it." You're preaching to the choir, Twitter! Sure, the way she looks has absolutely nothing to do with her athleticism or her routine. Sure, criticizing a black woman's hair might have racist and sexist implications that we could spend hours discussing, but let's not. Gabby Douglas owes it to us to have good hair during the biggest day of her life because we have nothing better to do and might as well attack a teenager.
The Games aren't over just yet. Let's all band together and continue diminishing women that are definitely better than us in every single way. Go USA!