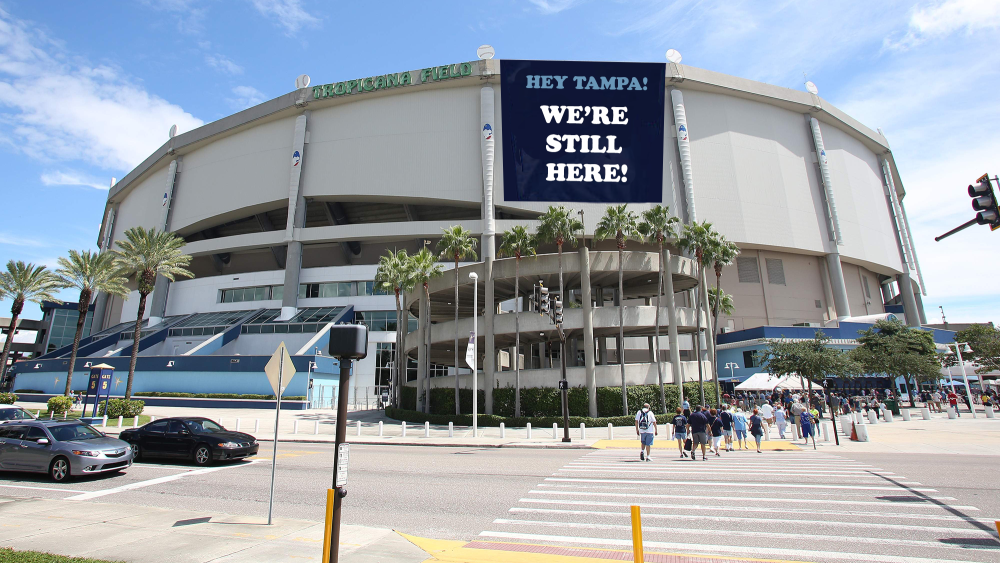 ST. PETERSBURG, Fla. – As the Tampa Bay Rays embark on their new season, the team is pulling out all the stops in reminding fans that it does indeed still exist.
"We found that our lower attendance numbers come mainly from people simply not knowing that we're still a baseball team," team president Brian Auld said. "So our goal for this season is to make sure everyone knows we're definitely still here, and we're definitely still playing baseball. Except when we're playing on the road, in which case please do not assume the stadium has been abandoned for years."
The organization has devised a variety of tactics for increased exposure, from hanging banners outside Tropicana Field to buying up entire blocks of radio and television advertising featuring Rays players reassuring fans that the team's entire existence wasn't just some weird distant dream.
"We were even thinking of allowing Donald Trump to hold a rally on the field during a game," Auld said. "We could count those people as fans attending the game."
So far, the campaign has had mixed results. "They're still playing baseball over there, huh?" said retired construction worker Bob Woodyard. "I could have sworn they converted the stadium into a Whole Foods a few months ago."
"No, I'm sorry, the Rays left about ten years ago," Dorothy Mulcher, 43, said. "My dad and I used to go to all the games and then one day, they just up and left town. Tropicana Field is now a Whole Foods, last time I checked."
Despite some setbacks, Auld remains optimistic. "I'll admit I've had my moments where I've wondered if I'm not actually in a coma and I'm running a professional baseball team in my mind," he said. "But I'm reasonably sure I'm not, and I'm reasonably sure we'll be filling up the Trop this season."
At press time, Auld was considering a plan to turn Tropicana Field into an assisted living facility that also happens to house the Rays.