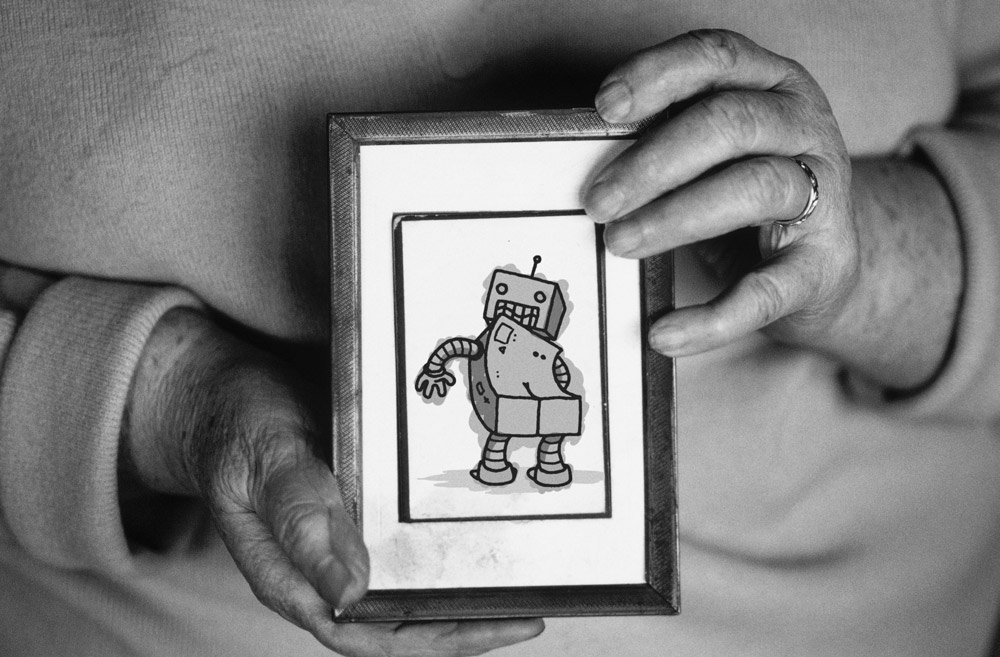 Bronson
Robot Butt is two years young, and what a two years it's been. My favorite memory this year has got to be when Variety sourced us as the ones to first break the news of Chris Rock hosting the Oscars. Of course, what they didn't know is that Chris is one of our biggest fans, and an occasional guest writer for the site. After he gave us the scoop on the news, he invited us to join him on stage for the big night! Make sure to tune in to the 2016 Oscars pre-show livestream to catch the Robot Butt team presenting an obscure technical award!
Steve
It's so hard trying to pick my favorite moments from the past year. From character-enhancing hazing rituals to a wide variety of blood oaths (we had so many, it was hard to keep track of what our pacts were even for by the end of the year), everything we did helped make our second year of existence the biggest and best it could be. And while the frozen yogurt machine in the break room did flood, claiming the lives of three summer interns, nothing was going to deter us from having a whole lot of fun each and every day. Here's to a great 2016!
Brian
I'm out of town right now. I'm sorry, I don't have time for your joke site.
Linton
Favorite memories of Robot Butt? Where do I begin? From the comforting grip of duct tape around my wrists to the firm hold of duct tape around my ankles to the snug fit of the duct tape across my mouth, the boys really gave me a warm welcome on my first day. It's hard to believe that I've been through 329 re-education sessions now. Just where does the time go? Not to seeing my friends and relatives, of course, because that would only interfere with the progress! And whether I die tomorrow or live another two long, fulfilling years at the Compound, I'll carry my memories of Steve and Bronson with me through all seven of Chancellor Zydrex's eternities.
Anyway, this piece was pretty fun.
Tim
There are just so many great memories form this past year that it's hard to choose just one. From Steve forcing me to watch terrible Christmas movies against my will to the many, many, many presidential endorsements we made before just giving up on life completely, it was an eventful year.
But the memory that sticks out most is the time back in October when I was going through a really rough patch in my life. Sensing something was wrong, the other Robot Butt guys hacked into my computer and started reading my personal journal entries to each other. Their favorite was the one where I questioned deeply whether or not other people really liked me. They laughed quite a bit at that one.
Then one day I came in to find that my entire desk had been wallpapered with copies of my journal entries, with "LOSER" and "LAMEWAD" written over the paper with marker. It was a really good reminder that even in times of turmoil joy can be found. It was a lesson I took to heart that night as the tears welled up while I tried to go to sleep. Thanks guys!
Kevin
Robot Butt turned two? Awesome! So many great memories. Wow. Time flies. Why, it seems like just yesterday we were a fledgling site writing high-quality articles about what curse words are ruffling the most feathers in elementary schools around the nation.
But we've grown as a site. Just this week we gained traction on the web for exposing the shocking truth that Ross and Rachel were siblings on Friends and that the entire show was a quest to decriminalize incest by producer Marta Kaufmann (which she's continuing with Netflix's Grace and Frankie by having the marriages of the fathers produce sibling-in-law concerns and relations, which is a clever way of softening the perceived awfulness of incest). In fact, if you're on the same side of this debate as her, I've started a petition to further her cause (not my cause, of course) where you can voice your opinion on how having hot siblings is not your fault and you're only human and you shouldn't be blacklisted from every cool thing ever – including family barbecues and cruises – just for one small incident at an advanced screening of Toy Story 3.