EPIC SPOILER ALERT!!! Don't say we didn't warn you!
After 20 long years since the final episode of Full House, the Tanners are back!
Well, most of them.
When Netflix confirmed last April that it was bringing back America's favorite family for Fuller House, the initial excitement was quickly overshadowed by disappointment that neither Mary-Kate nor Ashley Olsen would be reprising their iconic role as youngest sister Michelle Tanner.
Speculation as to how the show would handle the absence ran rampant. Popular theories included the characters moving abroad, a family feud, or even (gasp!) replacing the Olsens with another actress.
But when the highly-anticipated pilot leaked online yesterday, fans were STUNNED to discover the truth: There is no Michelle. There never was. She was just a collective delusion of the entire Tanner family.
Wait…what?!
"In the Fuller House pilot, we discover that the Tanner home is infested with toxic black mold that drove the whole family insane, causing them to hallucinate a precocious, burdensome third child," explained M. Night Shyamalan, who directed the episode.
The pilot further reveals that the Tanners sold the house shortly after the finale of Full House, recovering from their mass hysteria and promptly forgetting all about Michelle. That is, of course, until a now-grown D.J. ends up buying that same house, causing memories of Michelle to come flooding back…and ultimately leading to the discovery of the toxic mold just in time!
This premise might seem a bit far-fetched, but when you go back and rewatch the original show, the evidence was there all along. Take a look:
Michelle's features change just slightly in every scene, the way the face of someone might change in a dream. We chalked it up to the character being played by fraternal twins…but we were very, very wrong.
In the Full House finale, Michelle falls off a horse and forgets who she is and who her family is, darkly foreshadowing her family forgetting all about her and forcing her to face her own imagined mortality.
Throughout the entire 8-season run of Full House, no character outside of the Tanner family ever directly interacts with Michelle.
That's right, folks. Michelle Tanner was just a figment of everybody's imagination.
Reactions to the big reveal have been mixed. Fans are taking to Twitter to share their feelings: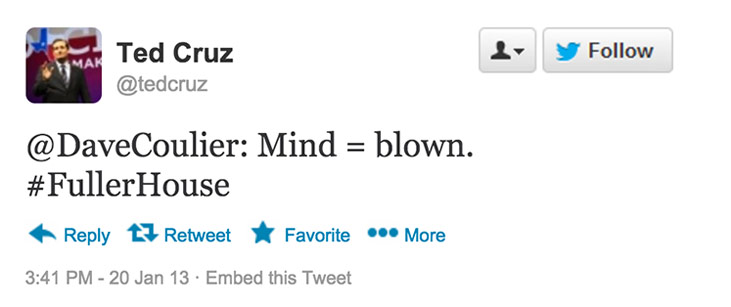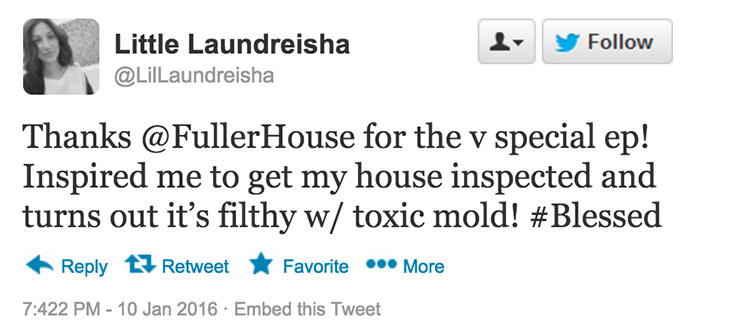 Asked if the twist was a deliberate departure from the tone of the beloved family sitcom, Jeff Franklin – who created both Fuller House and its predecessor – replied: "Not at all. From its inception, Full House has balanced light, family-friendly comedy with poignant and often tough life lessons. The Michelle reveal is very much in keeping with that spirit."
"We want viewers to laugh along with the Tanners," added executive producer Robert L. Boyett. "But it's equally important to educate them about the hallucinogenic effects of black mold. Anything less would be a disservice to the fans."
It looks like the second episode of Fuller House will deliver more of the light-hearted laughs fans associate with the franchise. Previews show D.J. giving online dating a try, and Joey and Uncle Jesse hoverboarding with a monkey. Have mercy!
What do YOU think of the Fuller House twist? Share on Twitter and let us know in the comments!