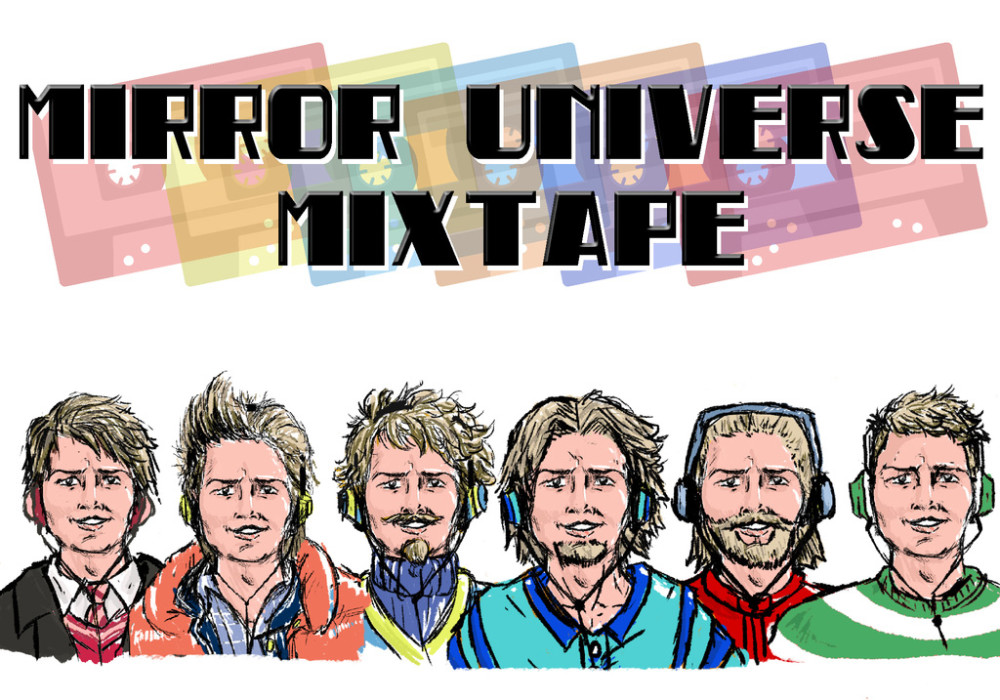 Welcome, Sound Cadets, to the other side of the wormhole. We've globe-trotted the multiverse looking for the finest deep-cut dark matter and big, bangin' B-sides and we're ready to bounce our findings back to SETI and straight into your heart.
Broadcasting live from Earth 841-A, our crack team of enslaved robots has been working tirelessly on Dantooine, Tlön and at the Tannhauser Gate to mine the covers, originals, alternate cuts and rarities our rabid fan base demands.
So strap on your polyphonic helmet, crank up your bionic implants and prepare your nervous system to cross through the sonic portal.
And remember what we always say at Mirror Universe Mixtape: If it's too loud, you're clearly from a species that evolved an inferior auditory threshold.
Side 1: Han Shot First
Track 1: "Across the Universe" – Fiona Apple
Hundreds of artists have covered the Beatles, though few bring something fresh and urgent to their renditions. But this cover by Fiona Apple from the Pleasantville soundtrack doesn't have trouble delivering something new.
Fiona's vocals sidle up to you like a cat while the backing track is pure wide-eyed wonder. The result is warm, inviting and with the kind of sound that makes you want to take a cross-country road trip.
Track 2: "Star Wars Theme" – Big Daddy
As cover bands go, Big Daddy is a special kind of novelty. Their act consists of taking mostly modern songs and covering them in 1950s and '60s styles, serving as a precursor to Scott Bradlee's Postmodern Jukebox.
This version of the seminal John Williams theme is performed by way of The Ventures, Dick Dale, Duane Eddy and other surf rock/instrumentalists of the early days of rock 'n' roll. It's a delight.

Track 3: "Ziggy Stardust" – Margot & the Nuclear So & So's
Bowie's classic gets a tempo adjustment, dropping the prominent guitar licks and drumbeat for a sound more akin to one found in a college coffee shop, but a good college coffee shop.
The lead vocals hold it all together and the end result feels ideal for a drizzling Sunday morning or the first hit of a joint. Maybe both.

Track 4: "Gonna Dig Up Alec Guinness" – Lemon Demon
One of Lemon Demon's many flippant, tongue-in-cheek tunes, this track finds the band doing what they do best: wrapping peppy melodies around clever, amusing lyrics.
The boys want their life-sized Obi-Wan no matter what it takes, and who can blame them? Dead or alive, I'm sure Alec Guinness is still genuine class.

Track 5: "Black Hole Sun" – Paul Anka
High in the running for Weirdest Cover Album Ever is Paul Anka's Rock Swings, a collection of modern rock songs performed in a swinging, lounge singer idiom.
Though Anka covers artists ranging from Pet Shop Boys to Van Halen to Nirvana (!), this Soundgarden cover almost certainly takes the cake, transforming the angsty, nihilistic original into something right at home on The Lawrence Welk Show. Strangely, though, it's still really listenable, if you can get past the sacrilege.
Side 2: There Is Another
Track 1: "Patient Satellite" – Sean Spillane
Featured prominently on the soundtrack to the Lucky McKee horror-thriller The Woman, this song stretches beyond what feels like college radio roots and becomes something more.
The yearning vocals paired with the steady, thrumming beat elevate the speaker's desire in a perfect way. Is it a song about unrequited love or obsession? Hard to say, but it's damn good.

Track 2: "Chewbacca" – Supernova
Another soundtrack tune, this one comes by way of Kevin Smith's indie classic Clerks. This is a rock song about Chewbacca. Do you need more convincing than that?

Track 3. Dark Side of the Moon a Cappella – Voices on the Dark Side
This impressive project is a cover of the entirety of Pink Floyd's album The Dark Side of the Moon, with all parts, including instrumentation, being sung be a troupe of a cappella performers.
It's a pretty fascinating listen and gives a good twist to the phenomenal album. Check out "The Great Gig in the Sky" in particular so you can hear some scream-singing mixed with singing-singing.

Track 4: "Ewok Celebration (Yub Nub)" – The Solids
Power-pop band The Solids recorded everyone's favorite goofy Star Wars song originally performed by everyone's favorite teddy bear punching bags.
It's a fun, jaunty cover that will burrow into your head for days. You're welcome.

Track 5: "Christmas in the Stars" – C-3PO, R2-D2 & Chorus
We're all pretty familiar with the Star Wars Christmas Special, but this officially licensed Christmas album deserves a place right along with it.
Featuring songs like "The Odds Against Christmas" and "What Can You Get a Wookiee for Christmas (When He Already Owns a Comb?)," these festive delights should be on any geek's yuletide playlist. I won't ruin this track with a further description. Just let it wash over you. And Happy Life Day!
Until next time, Sound Cadets. May the Force be with you.