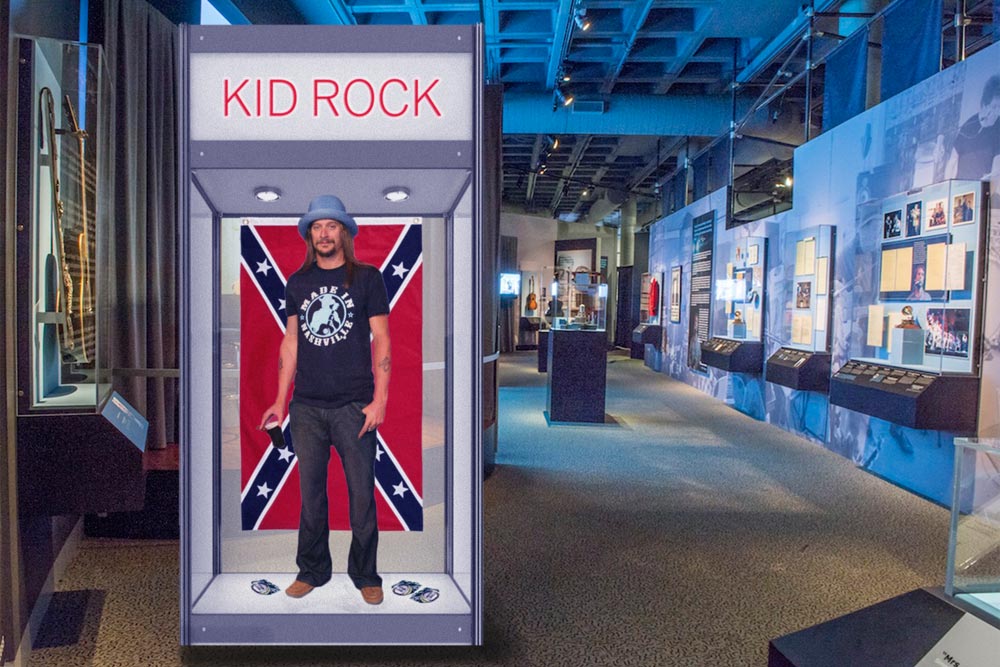 CLEVELAND – Multi-platinum recording artist Kid Rock will be entering the Rock and Roll Hall of Fame and Museum this year, encased behind glass as part of his very own exhibit.
"We are tremendously excited about this opportunity," Hall of Fame spokesman Terry Gothwright said. "Rather than wait for him to go on tour, fans can see Kid Rock up close and personal each and every day."
The exhibit will feature a variety of artifacts to give visitors a fully immersive experience into what it means to be one of the top-selling male solo artists of the 2000's. Specific items include a 6′ x 10′ Confederate flag, mud pits where "anything goes," and televisions both CMT and DVDs of the Blue Collar Comedy Tour. Visitors are also encouraged to take home one of Kid Rock's discarded Bud Light cans as a once-in-a-lifetime souvenir.
Though Kid Rock will be unable to grope breasts from his enclosure, he is free to make obscene gestures to anyone he wants, and the glass case will contain air holes so visitors are able to hear Kid Rock's unfiltered views about the country.
"Frankly, we felt America would be better off with Kid Rock behind three-inch-thick glass," Gothwright said.