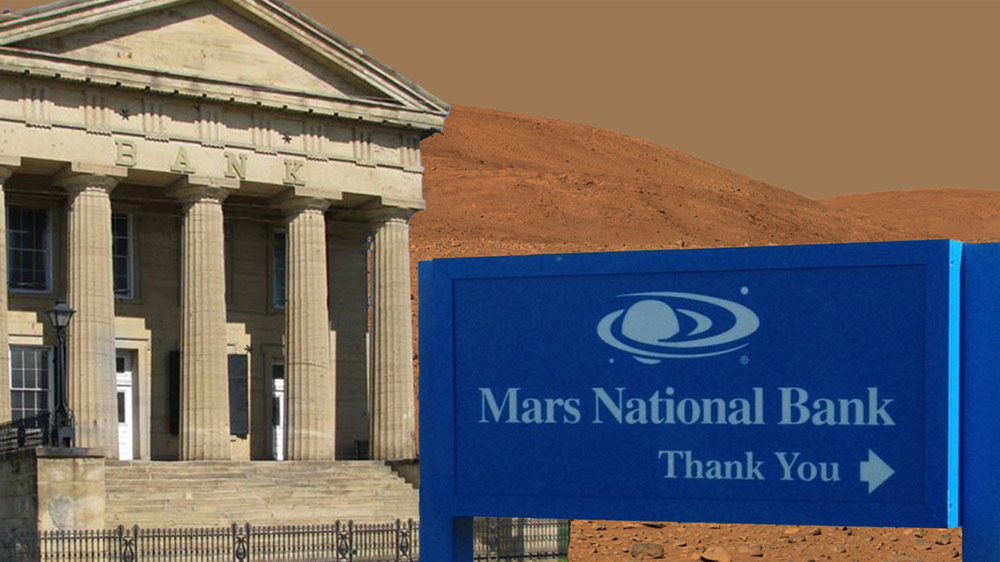 MARS – For the third straight month, interest rates at the First Bank of Mars have seen a full percentage point of growth. Lack of confidence in the faltering water market is speculated to be a major factor.
"We really put a lot of faith in the discovery of more water," bank official James Dale remarked. "The outlook was very promising, but in reality there just wasn't anything there. I don't want to point fingers, but where do you think NASA keeps its money? It certainly isn't on Mars with us."
Citizens of Mars Colony B-6, the largest colony on the planet, are feeling the impact of the rate hike as well. Melina Ticotin moved to the Red Planet when civilian transit first began.
"I came here in hopes of opening the first coffee shop on Mars," Ticotin said. "The soil here has a great earthy quality to it that gives the beans a robust flavor. Really different than what you can find on terra firma. But now I don't think I'll be able to afford the real estate at these new rates. I don't know what I'm going to do."
Analysts predict the rate increases to continue as long as valuable resources go undiscovered. One analyst who wished to remain anonymous commented, "I'm beginning to wonder why we even came here in the first place. It's uninhabitable, we're spending millions to import resources from Earth every day, and frankly, the commute is a nightmare."