As the age-old belief goes, if you slob on the right knobs hard enough, anything is possible. This is especially true in Hollywood.
Kanye West certainly knows this truth, evidenced by his recent tweet effusively praising director Robert Zemeckis for his recent film The Walk: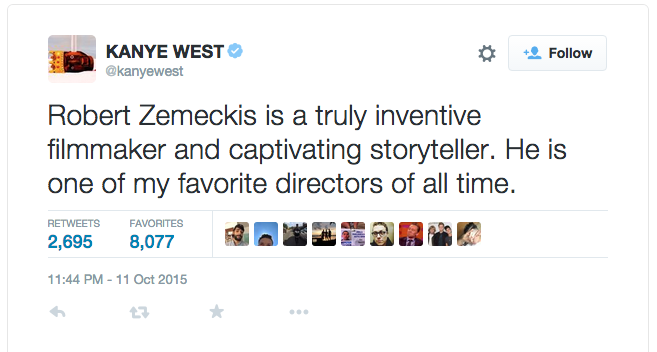 Now why is West so blatantly trying to get a rise out of Zemeckis' penis? It could be that he simply loves the man's filmography, which is vast and impressive, but it's more likely that West is just trying to secure the role of Marty McFly in the inevitable Back to the Future reboot (though the filming might overlap with his presidential campaign).
Zemeckis has said that a reboot of his beloved franchise would only happen if he was dead, but some Twitter compliments can go a long way to changing someone's mind. And if Zemeckis continues to stick to his guns, West might just have to wait a little while longer. But rest assured, the studio will begin setting up the camera for the first shot of the reboot before Zemeckis' body is even cold.
West is that "bold, new" choice the studio executives think they need to take the franchise in a "bold, new" direction. Could you imagine West going back to 1955 and playing his music at the Enchantment Under the Sea dance? He'd rap "Black Skinhead" while trapping himself in a glass cube while strobe lights go off from every angle, blinding the entire audience of teenagers.
Can't wait!