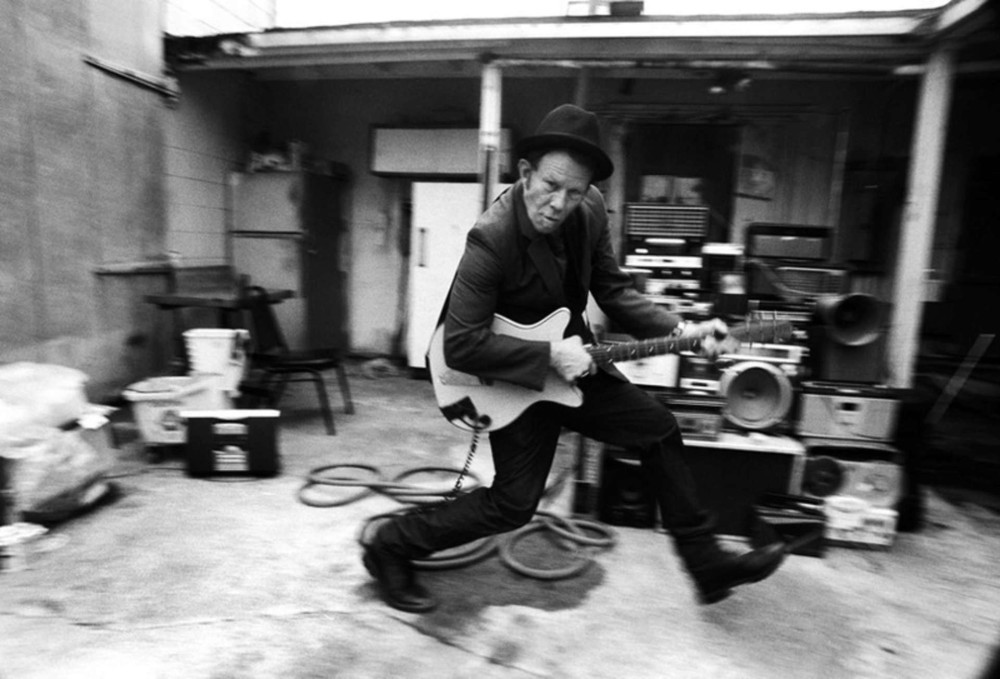 Welcome, Sound Cadets, to the other side of the wormhole. We've globe-trotted the multiverse looking for the finest deep-cut dark matter and big, bangin' B-sides and we're ready to bounce our findings back to SETI and straight into your heart.
Broadcasting live from Earth 841-A, our crack team of enslaved robots has been working tirelessly on Dantooine, Tlön and at the Tannhauser Gate to mine the covers, originals, alternate cuts, and rarities that our rabid fan-base demands.
So strap on your polyphonic helmet, crank up your bionic implants and prepare your nervous system to cross through the sonic portal.
And remember what we always say at Mirror Universe Mixtape: If it's too loud, you're clearly from a species that evolved an inferior auditory threshold.
Side 1: Golden Rule Days
Track 1: "I Don't Want to Grow Up" – Tom Waits

Most of you will recognize this as the lead single off the Ramones' final album ¡Adios Amigos!. While their version is great and encapsulates a major thematic thread of the Ramones' work, there's something about Waits' original that tops it. It could be the steady, jangly beat or the fact that Tom Waits lyrics tend to sound the best coming out of Tom Waits.
But I also think the irony of Waits' version helps propel it past the Ramones. With Waits' gravelly, world-weary, clearly-adult voice telling us he doesn't want to grow up, we're left wondering – is the speaker having us on or does he truly not see himself as part of the adult world? Either way, I'm with Tom.
Track 2: "Three is a Magic Number" – Blind Melon
Originally a Schoolhouse Rock! number rendered in a very '70s singer-songwriter style, this Blind Melon cover comes from a 1996 tribute album called Schoolhouse Rock! Rocks.
Though never a major band, even in their era, Blind Melon's sensibilities and talents are a good match for updating the poppy '70s sound of the original into the poppy '90s sound for this cut. A fun, rock-out tune.
Track 3: "I Want to Hold Your Hand" – Al Green
No back-to-school playlist would be complete without a little bit of young love. While the Beatles perfectly captured the gee-whiz butterflies of teen romance, here Al Green sings with the authority of a man who's done a lot more than hand-holding.
If the Beatles is how we feel in our nervous moments of anticipation, Al Green's how we feel strolling back to our car no matter the level of intimacy achieved. If you want to be a cool 15-year-old – and of course you do – start pumping this through your earbuds. Al knows what's up.
Track 4: "Smells Like Teen Spirit" – Patti Smith
Nirvana's angst anthem became a rallying cry for numerous generations, but like many seminal songs it still retains its power and vitality. When faced with such a monumental original, covers can prove difficult, since any attempt can lead to a listener's shrug and the statement, "It's not Nirvana."
"Countering" a cover by interpreting the song in an opposite or unexpected way is often a solid way to bring about something fresh and it's a technique Patti Smith employs here to great effect. Her worn-down, bare-bones rendition makes "Teen Spirit" sound like a distant echo of the original, or the fading sounds of a revolution.
If grunge ever got a funeral dirge, it's this.
Track 5: "Solsbury Hill" – Scala & Kolacny Brothers
The line "Son, he said, grab your things, I've come to take you home" has to be one of the most optimistic lyrics in all of pop music, and that mantra just happens to be wrapped in one of the most exuberant melodies we're likely ever to hear.
Much like "Smells Like Teen Spirit," "Solsbury Hill" is a song that cannot be topped, but if you take a step sideways instead of backwards you often end up in some pretty interesting territory.
Here, Scala & Kolacny Brothers do just that and deliver a beautiful and unique rendition of the classic song. Scala's status as a girls' choir certainly helps as the youthful joy and belief in a brighter future feel truly genuine and not simply rote necessities to achieve the song's theme.
Side 2: Friends and Foes
Track 1: "My Heart Will Go On" – Scott Bradlee's Postmodern Jukebox
Anyone who attended a school dance in the '90s and '00s or ever owned a radio got their fill of Celine Dion's original track, so it takes some doing to make the song listenable again. Thankfully, Scott Bradlee's Postmodern Jukebox is up to the challenge, a project where musicians take pop songs and infuse them with new life in drastically different styles.
Here we find Mykal Kilgore giving a bouncing, vibrant Motown rendition of the Titanic tune à la the late, great Jackie Wilson. It's one of the best songs you'll hear in months.
Track 2: "The Riddle Song" – Pete Seeger
One of the most memorable scenes in Animal House has Bluto smashing a proto-hippie's guitar to pieces when he finds him trying to woo some coeds with a sappy, neutered folk ballad.
That sappy, neutered folk ballad has a name, surprisingly. It's called "The Riddle Song" and it's been covered by dozens of artists. Here's the incomparable Pete Seeger doing a fine version.
Track 3: "People Are Strange" – Brave Combo
The Doors' "People Are Strange" might be the perfect song for struggling with being an awkward and lonely teenager.
Brave Combo's lively polka take on the track might be the perfect song for embracing your status as an awkward and lonely teenager – or adult for that matter.
Track 4: "Don't You (Forget About Me)" – AM
The Breakfast Club made Simple Mind's "Don't You (Forget About Me)" into a high school staple and Easy A, another great movie about high school life, provided an energized update.
AM's version of the song has a solid indie rock beat with some cool guitar licks, which build to a playful conclusion. I think John Bender would approve.
Track 5: "Good Riddance (Time of Your Life) (alternate)" – Green Day
When producer Rob Cavallo added strings to the original Green Day track, he said he "knew he had a hit." Like several other songs on this list, "Good Riddance" holds the status of an expertly crafted song, and those strings certainly played a big part in making it so.
But this more raw, stripped-down alternate version taken off the "Brain Stew/Jaded" single shows that a lone addition or subtraction doesn't necessarily make or break a song. Some songs are just pure, focused, and plug & play.
The original is what you sing with your friends. This is what you sing by yourself.
Class dismissed, Sound Cadets. Until next time.