Well, I'm a couple weeks into my internship at Robot Butt, and I can't believe how much I'm already learning. Turns out the real world is a whole lot faster than my life at Purdue (but I dig it). More than anything, it's showing me just how far I still have to go to be the kind of professional I really want to be. That's a good thing, too. If I'm going to be a diligent reporter, I need a wake-up call like this.
I've been performing standard intern tasks over the past few weeks: taking notes in meetings, working on various office projects and, of course grabbing coffee every now and then. But I've also started a Twitter account and am able to write these blog posts to document my journey through the internship program. Hopefully it acts as a guide for future interns; not just at Robot Butt, but any company. Online journalism is changing every day, and I need to make sure that, no matter what, I'm always on top of it.
With that in mind, I've really been loving the opportunity to monitor the news cycles for the RB editorial team and getting to know the ins and outs of what goes on here.
Speaking of that, here's something pretty interesting about my time here so far. During my second day in the office – on the first day, I was all over the place signing forms and hearing about the history of the company – the CEO himself showed me the ropes and went over everything I'll be learning.
"Today we're going to be going over expense forms, social media rules, and also don't touch this button," he said.
Wait, what button?
Oh…you mean that giant, red impossible-to-miss button that takes up nearly a quarter of my desk: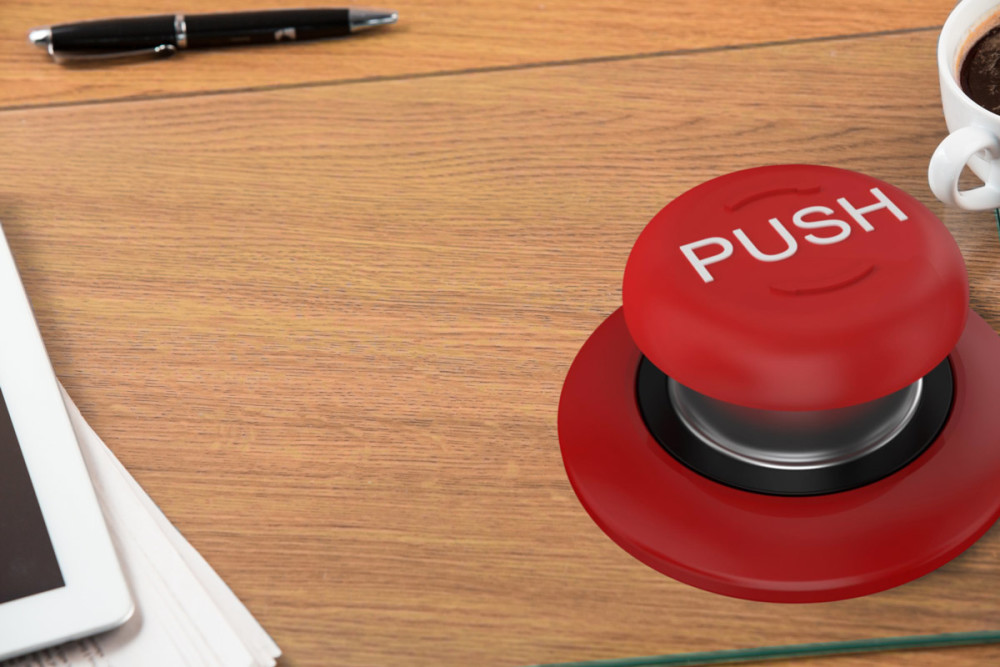 I laughed and asked him why I shouldn't push the button, but he just walked away without answering me. Of course, that piqued my naturally inquisitive mind. Maybe he just didn't hear me, I thought. So I walked over to his office, knocked on his door and asked him again.
"Right," he said. "Let's get you started on learning those expense forms."
Weird. I tried asking a few people around me in the office, but I couldn't get a straight answer out of anyone. That just confirms it for me; I'm positive I'm being pranked right now since I'm the new guy, so good one guys! Looks like I need to invest in a whoopee cushion or something.
But still, I have to admit, staring at that giant red button makes it pretty tempting…
No! That means I will have just lost the prank and I, Darren, am no loser. I'm in the Pi Kappa Alpha fraternity, after all. Ask any of my Purdue Pike brothers and they'll tell you – I don't give up on anything. Not the 48-hour Drink-a-Thon junior year and most definitely not this.
Onwards and upwards!