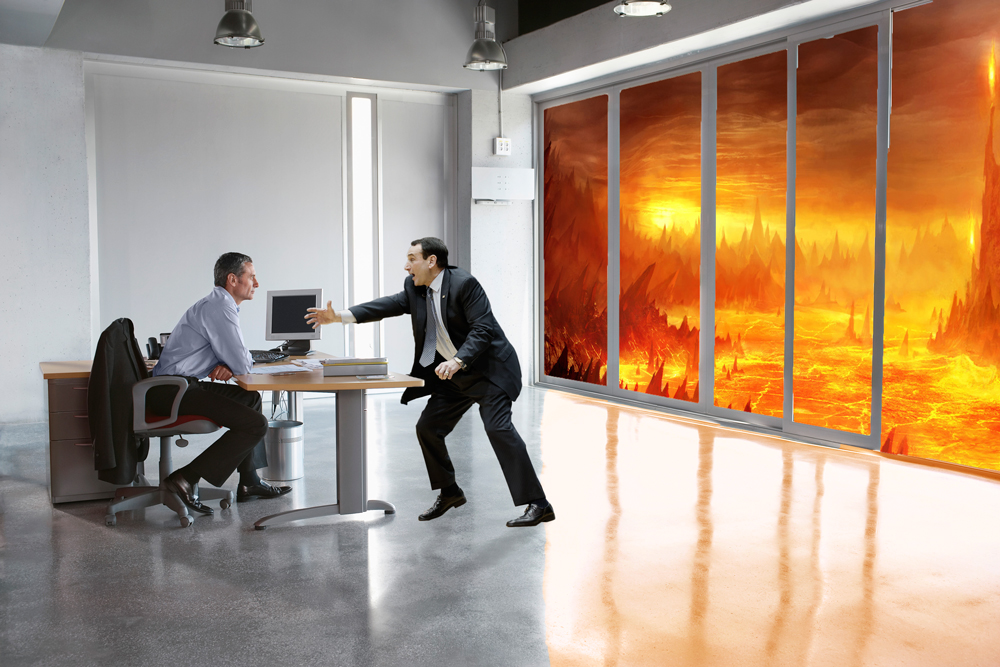 DURHAM, N.C. – After winning his fifth NCAA championship, sources learned that Duke Blue Devils coach Mike Krzyzewski returned to Hell to take out a second mortgage on his soul.
Krzyzewski previously sold his soul in 1990, after Duke lost in the championship game to UNLV. The now-hated Blue Devils then beat Kansas for the national title in the next season, one of five championships for which the coach surrendered his eternal being. The initial mortgage also included a stipulation that Krzyzewski would become the first college basketball coach to win 1,000 games, which was achieved this past season.
But mere hours after cutting down the nets with his team, after a hard-fought victory against the Wisconsin Badgers, Krzyzewski was back in Hell desperately trying to take out another mortgage on his soul. This time, what he wanted had nothing to do with basketball; Krzyzewski was looking to be crowned King of the Earth.
"Frankly, we've never seen a mortal so determined and willing to abuse his soul for power and glory," said Glortho the Annihilator, who is the underworld's chief operating officer of the Department of Soul Management. "It's really quite impressive, and we're interested to see how his ethereal self handles his eventual payment."
With each successful mortgage of his eternal soul, Krzyzewski is tethering himself to some of the most intense and creative interest payment opportunities the devil Himself could conjure up.
"I remember Satan being almost worried about Krzyzewski trekking down here again," Glortho the Annihilator said. "He would spend hours in his chambers desperately trying to think of what he could do to Hell's first two-time soul mortgagor."
Luckily for the devil, He has plenty of time to decide between things such as using the coach's detached testicles as basketballs in Hell's recreational league or forcing him to watch the 2003 NBA Finals on an endless loop. Don't think that coaching a team like the "Blue Devils" would earn Krzyzewski any favors in Hell, either.
"Krzyzewski will be popular among the residents here, but Satan has never wavered on bringing his A-game to the torturing table," Glortho said.