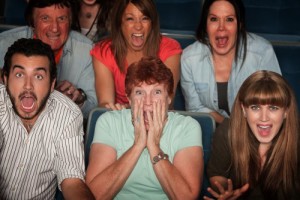 HOLLYWOOD – In a bold move, CBS announced today that it will be adding "gasp tracks" to all of its televised dramas following the holiday break.
"Looking at the numbers for Two and a Half Men, Mike & Molly and The Big Bang Theory, it's clear that Americans don't have time to think about the shows they're watching," said Martin Shapiro, CBS programming director. "They want to be told when to laugh, and when to laugh really hard. So we thought, maybe they don't know when to be shocked either."
The strategy will be applied to all CBS dramas, including popular programs such as CSI, NCIS and Criminal Minds. In his press conference, Shapiro stated "gasps, shrieks and startled reactions" would be inserted during tense and surprising moments in an episode, while "groans and ewws" will be used when an episode shows a dead body or an otherwise "really gross part."
"A lot of people in this industry say you should trust your audience. Well, we've got decades of evidence showing that's categorically untrue," said Shapiro.
CSI star Ted Danson agrees. "Go for it," he said. "They eat this shit up with a spoon. Let's give 'em the spoon, too."
Industry experts believe the new strategy could reap big rewards for CBS, and other networks have taken notice. Lifetime is rumored to soon unveil its own "sap track," featuring fawning awws, muffled sobs, and regular statements of "I knew it was him."