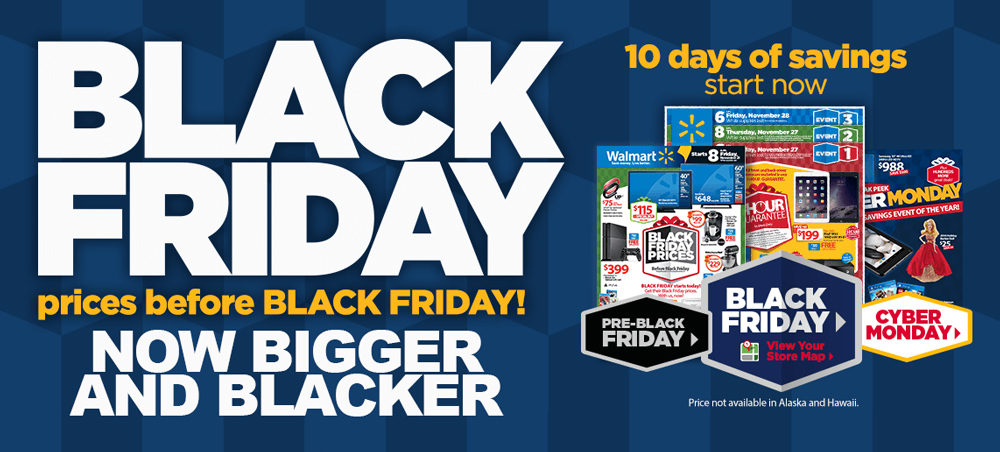 Bentonville, AR – Walmart announced today the "Bigger & Blacker Black Friday" mega-event that would take place this year. Starting midnight on Thanksgiving, every Walmart store in the United States would become a 24-hour-a-day Black Friday extravaganza through 11:59 p.m. Saturday, December 6.
"Black Friday is no longer about waking up at the crack of dawn to stand in long lines and hope for the best," said Duncan Mac Naughton, chief merchandising officer, Walmart U.S. "It's about the rush of adrenaline you get from running full speed through our aisles, fists clenched, ready to defend yourself for the chance to buy any of our great products."
"So this year, we're blowing it out with four straight, uninterrupted days of deals and promotions in our stores across the country. We'll have crazy low prices on the gifts our customers want – and will get by any means necessary."
The retailer's "Bigger & Blacker Black Friday" playbook for 2015 includes many key elements to enhance the shopping experience for everyone. All customers:
Will receive a coupon for a free Diet Coke upon entering the store.
Will be greeted by exceptionally cheery and helpful greeters, trained exclusively by our top company greeter, Stan from Salt Lake.
Are sure to have a festive time running from our various snowman mascots in the store – get tagged and you have to leave, while the rest of your family has to stay!
Will enjoy maximum freedom in their shopping thanks to every security camera being turned off.
Can meet and take pictures with Santa, who will be holding the very last items in stock for select toys.
Have the opportunity to make peace with their god in the parking lot in a designated "Final Prayers" section near the entrance.
Will benefit from our aisles being reduced in width by three feet so we could fit in more of your favorite merchandise.
Receive a "No Mercy" T-shirt upon leaving the store.
Have the freedom to raid the in-store Pizza Huts as they see fit.
Will receive one of five collectible Walmart Black Friday patches to commemorate the fun you and your family are sure to share.
"We can't change the laws, but we can promise that there wont be any police on the premises," Mac Naughton said. "Your shopping experience should never have to be interrupted by any of the silly constraints society has placed on us throughout the rest of the year. This Black Friday – this 'Bigger & Blacker Black Friday' – you get to take back what is yours."
Walmart served 25 million customers on Thanksgiving Day in 2013 alone. And with unlimited Black Friday deals running from Thursday through Sunday, Walmart is predicting that more families will flock to its aisles to take advantage of low prices on electronics, toys, kitchen appliances, bedding and thousands of other products.
"This is the ultimate Black Friday experience," Mac Naughton said. "This will truly determine if you are worthy of the deals you've always claimed to want. See you at the stores!"