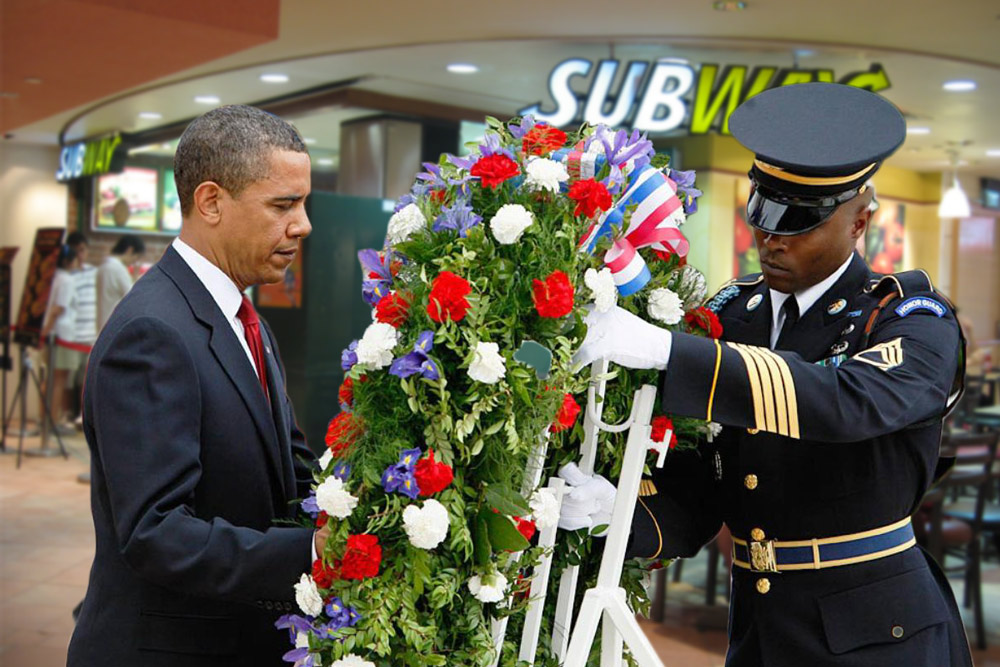 WASHINGTON – President Obama visited an area Subway today to pay his respects and formally acknowledge National Sandwich Day in the United States.
A few minutes after 11 a.m., Obama, aided by a soldier in uniform, rested a large wreath on a stand. The president adjusted the wreath, stepped back and bowed his head in silence for a few moments. Afterward, an Army bugler played taps.
Later in the morning, Obama spoke in a ceremony in the sandwich shop's main dining area.
"Today, we allow ourselves to stop and take a moment to remember the sandwiches that sacrificed themselves to feed our hungry nation," Obama said. "It is no small feat to allow yourself to be consumed for the greater good."
Obama took a tour of the Washington Subway restaurant in respectful silence, learning about the sandwich-making process and the gut-busting amount of calories that make up the final product. He took the time to learn about every ingredient, every condiment, while also learning about the sandwich artists themselves.
"The president was very chill about all of it," said Duncan Yost, an employee at the restaurant.
"When you eat your sandwiches today, America," Obama said. "Do so with gratitude. Do so with the same unflinching bravery and honor that the very sandwiches themselves exude."
Before leaving, President Obama ordered the foot-long meatball sub, ate it at the restaurant while posing for photos and was then carried out of the restaurant by the Secret Service, as the requisite four-hour nap that follows such a sandwich had already begun to set in.