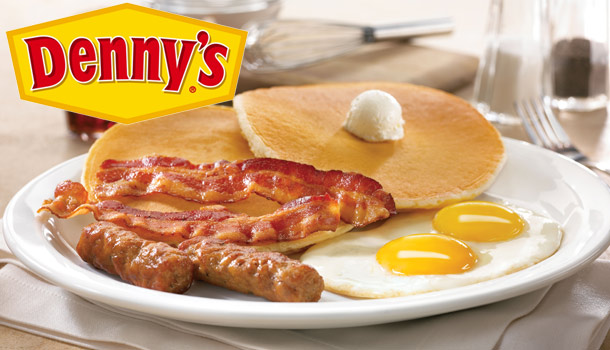 It used to be thought impossible to spend $300 at Denny's without your insides exploding from the extreme self-abuse.
Until now!
Thankfully, an upscale Denny's has opened in New York City, where it is incredibly easy to drop $300 on a meal for two. With the "Grand Cru Slam" combo meal, you'll get a bottle of chilled 2004 Dom Perignon and two Grand Slam breakfast meals, which we all know contain eggs, bacon, sausage and pancakes.
You might be wondering why in the world you'd want Dom Perignon with your Grand Slam meal, which you've typically only gotten while already wasted. But if you're wondering that, then you'll have to be forgiven for being an unsophisticated heathen. With this vintage champagne, your eggs will burst with a flavor you've never experienced, each pancake becomes a mouthful of adventure, and you'll be begging the waitress for more bacon grease to pair with the crisp aftertaste of your champagne.
The best part about this new Denny's location, though, will be waiting to see a family of tourists wander in there thinking they found an oasis from the terrifying notion of having to choose an authentic New York restaurant, only to accidentally order the Grand Cru Slam, followed by the father either fainting or raising hell.
Related articles