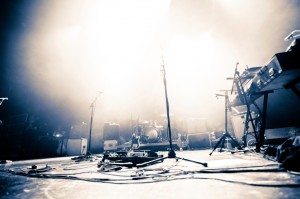 RESTON, Va. – Local band Semen Transfusion play their music fast, but ever since their drummer was bitten by a radioactive cheetah, their tempo has been so extreme that they've broken a barrier considered by many scientists to be next to impossible.
"I love playing aggressive, insane music, but ever since he went on that safari, we can't have band practice without him ending up in a different part of the multiverse," says frontman Ball Torture, regarding Hades Stomper, his band's quick-handed drummer.
After pounding the skins faster than the speed of light, Hades Stomper, of previous local favorites Skin Carafe, said he found himself in a new universe. "It wasn't too big of a deal, because once I realized what happened, I just kept practicing until I found a universe that was close enough to our own to be able to find my bandmates, in our practice space, wondering why I was late for practice."
Only being able to get a few seconds into a gig without losing your drummer to a tear in space-time may be a set back for most bands, but not for Semen Transfusion.
"I spoke with the guys and we decided to just keep going," Stomper said. "Each universe I enter is just another chance to get our music out to a new audience. There's literally an infinite amount of new audiences to find, be they lizard-people, self-conscious clouds of gas, or just humans that happen to exist in a universe much like our own."
Their fans really "dig" the new sound, says self-described number-one fan Jack Moritz of McLean, Virginia. "I just love how extreme they are," he said. "Other bands play fast, but no one defies the currently accepted laws and theories of physics like Semen Transfusion!"
Check out Semen Transfusion soon, however, because they plan to go on safari soon, hoping to find the cheetah that gave Stomper his powers. Their idea is to all be bitten, so that all five members may travel interuniversally. "Each new universe is just another chance to touch someone's life," Torture said.