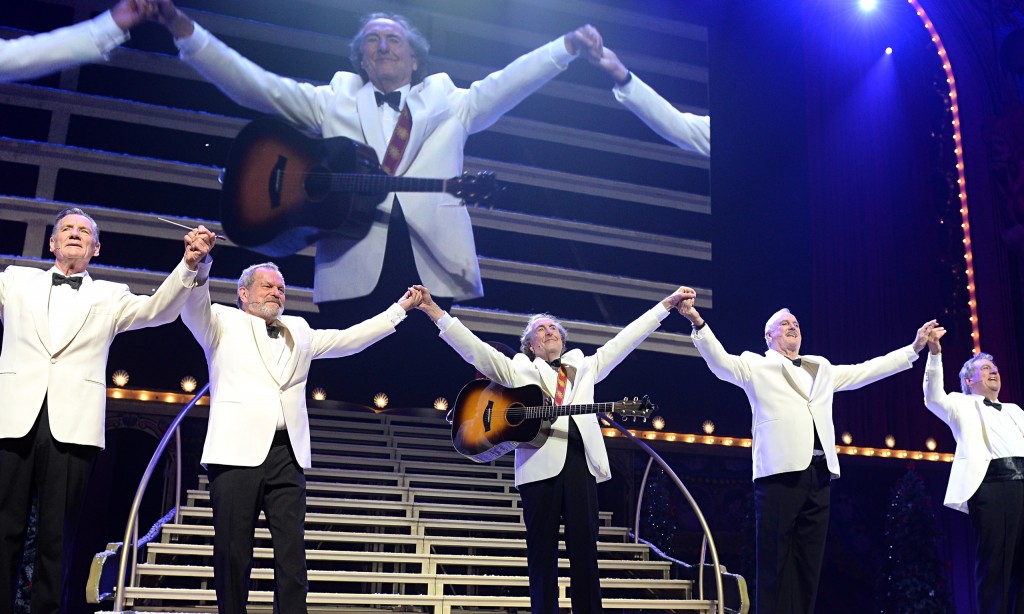 "Dying is easy. Comedy is hard," so says the old showbiz adage.
For the majority of their career, Monty Python has made the inverse seem true. The wit and invention which sprung from their collective minds made comedy seem like the simplest thing in the world, while their ability to keep death from tainting their salmon mousse well into their seventies – with the exception of Graham Chapman – has helped make the troupe legends in their own time.
On Sunday, Monty Python brought down the curtain, or should I say foot, on their collaborative careers. The final show in a run of ten at London's O2 Arena was broadcast live via satellite around the world to select theaters, and featured the Pythons dusting off old sketches and acting "far too silly" once again.
The show itself was very much a greatest hits collection, with old (and expected) favorites like "The Four Yorkshiremen," "I'm a Lumberjack," "Spam," "Spanish Inquisition," and "Parrot Sketch" revived with slight variations in jokes along the way. In between sketches, clips from Flying Circus were shown, including the "Fish Slapping Dance," "Philosopher's Soccer Match," and a selection of Terry Gilliam animations like "Dancing Teeth." A number of nods and tributes to Graham Chapman got sprinkled throughout as well.
This format was unsurprising and charming, though ultimately somewhat disappointing. While the Pythons did fine work recreating the sketches and finding new intros and outros between them, more new material would have been welcomed.
Much of the bridge material between sketches did feature some new writing (including a fun expansion of the "Penis Song," which included vaginas and asses), though these moments were usually too brief and far between. An appearance by Stephen Hawking in an original bit got perhaps the biggest laugh of the night, and the audience loved "seeing the strings" of the live performance when occasionally a Python would forget a line or have a wardrobe malfunction and had to play their way out of it, so I believe fans would have been appreciative of more fresh material.
I think the reliance on the old material came from a couple of places. One, with nostalgia acts – no matter how much we love Python, that's what this was – there's the pressure to "play the old stuff." While I personally would disagree with this idea for any concert (sure, play some hits, but give me something new – I have the CD at home), many people subscribe to it, both fans and performers alike, so it's to be expected.
Time could have played a role as well, in that the Pythons do tend to be busy and might just not want to put the effort into creating new material, but I would wager that an element of fear was probably at work also. When you are revered the way Python is, do you want to go out on stage with new material that might flop and tarnish your legacy at your last show? While I'm confident they could have still written some stellar stuff, I can understand that fear, if indeed it was a factor.
For the show as presented though, there was a lot to be enjoyed. All of the Pythons brought their A-game and subtle changes in the performances of sketches meant the audience got to see sort of "alternate takes" of their favorites. Much of the material used was from Flying Circus, though "Every Sperm Is Sacred" and its accompanying sketch made an appearance along with "Christmas in Heaven" from Meaning of Life, as did a nod to the subtitles from Holy Grail.
I think more skits could have been culled from the movies – while Holy Grail and Brian had a more contextual structure than Meaning of Life, some bits, like "She's a Witch" or "The People's Front of Judea" could easily stand on their own as sketches – but everything that was chosen was, without a doubt, beloved material.
In the end, the show is best summed up in something a friend of mine said: "This is history." With this show, the Pythons were able to put the troupe to rest with a big final, if limited, engagement. Not many groups – be they in comedy, film or music – get to choose their swan song. While Chapman was, and has been, sorely missed, the remaining Pythons put on a show of charm and wit which reminded us why we loved them so much in the first place.
Fittingly enough, the show closed out with a sing-along (a worldwide one at that) of "Always Look on the Bright Side of Life." This was followed by a listing of Chapman's birth and death dates, along with birth and death dates for the group – 1969-2014 – ultimately ending with the words, "Piss off."
The finality of that ending, though of course amusing, left me a little sad. For better or worse, on July 20, 2014, Monty Python ceased to be. This is an ex-comedy troupe.