Here's the deal:
There are two kinds of people in this world: Those who were scared shitless by the Willy Wonka boat ride scene and those who were scared shitless by the Willy Wonka boat ride scene and promptly said, "Thank you, sir. May I have another?"
I'm firmly in the second camp. That scene captured an essential horror at the center of a lot of Roald Dahl's creations, though I would argue Dahl's entire body of work falls in line with what makes the best children's literature. From the Brothers Grimm to Lewis Carroll, quality work comes from real emotions: fear, sadness, loss and pain.
Give me the poignancy of Christopher Robin leaving Winnie-the-Pooh instead of the parade of fart jokes in Captain Underpants any day. Give me Peter Pan killing Lost Boys if they get too old (this is legit, look it up) instead of the thrilling Berenstain Bears Stub Their Toes. Give me the kid from The Giving Tree making a torso boat instead of Pixar's Cars. Anything but Pixar's Cars.
Dahl was smart enough to know that the world children inhabit isn't any easier or sweeter – it's just different, like seeing life through a fisheye lens. Case in point, he once said the following about getting children's attention: "…if a person is nasty or bad or cruel, you make them very nasty, very bad, very cruel. If they are ugly, you make them extremely ugly. That, I think, is fun and makes an impact."
This might help explain why Veruca Salt is like Hitler in bobby socks.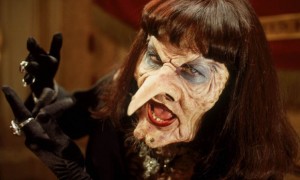 (pictured: Dahl considered this character a "real looker")
While many of us grew up with Dahl's great children's work, including Charlie and the Chocolate Factory, The Witches, Matilda, James and the Giant Peach, and his Child Catcher from Chitty Chitty Bang Bang, what you might be unaware of is that Dahl wrote adult fiction as well. And it's even fucking darker.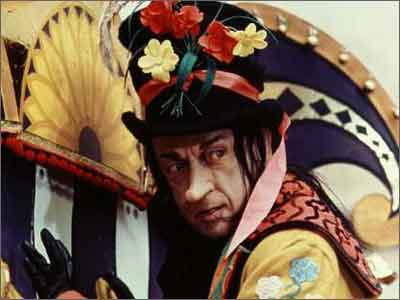 (pictured: Nightmare fuel)
Dahl started as a short story writer during World War II, at first creating autobiographic tales and then later expanding into more grisly thriller/horror ones. The one exception is his 1943 children's book The Gremlins, in which he helped popularize the gremlin as a mythological character. He didn't return to children's literature until 1961 with James and the Giant Peach, but he wrote plenty of twisted tales along the way.
Some notable stories from this time include "William & Mary," a story in which a man becomes a brain in a jar and his wife enacts some fitting revenge upon him/it, "The Landlady," in which a man comes to rent a room which seems too good to be true, and "Skin," in which a homeless man who was tattooed by a famous artist gets questionable offers by art dealers.
Most notable of all, however, is probably "The Man from the South". In this story, a young man is offered a fancy car by an eccentric gambler if he can light his "lucky" lighter ten times in a row. Should he lose, the gambler will take the young man's little finger. I mean, we all know Willy Wonka later ate those kids, but at least he kept them intact first.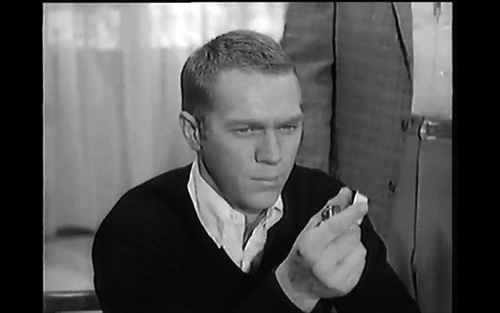 (pictured: Steve McQueen thinking, "Nine fingers ain't so bad.")
This particular story was filmed as part of Alfred Hitchcock Presents, later in its sequel series in the '80s, again in Dahl's own Tales of the Unexpected, and was the inspiration for Tarantino's portion of Four Rooms, entitled "The Man from Hollywood." Both the original Hitchcock version and Tarantino reboot are excellent, though Tales of the Unexpected is noteworthy for having one of the weirdest opening credit sequences this side of an Eastern European public access channel or Japanese game show.
Dahl also wrote a novel, which I haven't read, called My Uncle Oswald. Wikipedia describes the plot as such: "Oswald discovers the world's most powerful aphrodisiac and with the aid of a female accomplice they place the aphrodisiac inside chocolate truffles made by Prestat of London. By this means, the accomplice seduces the world's most famous men, with the intent of selling their semen to women wishing to be impregnated by them. (The semen is collected via condoms)."
No doubt the novel ends with Oswald running through the streets with vials of semen, singing "I've Got a Golden Ticket!"
A collection of Dahl's best adult work is available on Amazon and I highly encourage you to seek it out there or elsewhere. Otherwise, the terrorists win.
But seriously, there's no earthly way of knowing which direction we are going.