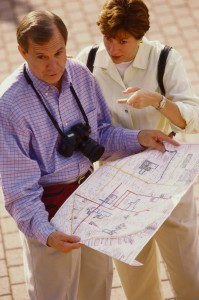 WASHINGTON, D.C. – In an absolutely disgusting display that made everyone around him uncomfortable, a tourist visiting Washington, D.C. debased himself by asking a local for directions.
The man-child, who apparently couldn't navigate his way out of a paper bag to save his life, approached a resident of the nation's capital and begged for instructions on how to reach the Lincoln Monument.
Initially having withdrawn in disgust, the D.C. local managed to push past the visitor's out-of-town-stink and choke out an answer, even going so far as to point out intersections on the tourist's ragged and filthy "Welcome to D.C." map.
Without a hint of shame or remorse, the nitwit visitor to the city then continued to emasculate himself by asking if the Washingtonian knew of any good breakfast spots.
With a painful grimace, the local managed to stop gagging long enough to tell the "real-life monster" about a couple of nice places around Dupont Circle.